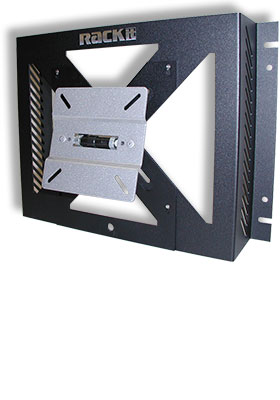 Buy this item and earn 40

Club

Points.
RCT-WLTCPULCD: A thin-client and LCD-screen wall-mount bracket
• Easy to install
• Low profile
• Monitor tilting of 15-30 degrees, up or down
• Monitor can easily get lifted and removed - no tools required
• Using a standard padlock blocks access to the thin-client and prevents the monitor's removal, safely securing the installation to the wall
• Offers a sleek and professional look to your installation
• Ships fully assembled with UPS/FedEx
Everyone needs Wallit™ CPU to protect their PC.
Computers located on the floor are in continual danger of being jostled and kicked, not to mention the difficulty in accessing the drives, ports, and card readers. Desktop computers and PC's that sit on a desk take up valuable work space, look cluttered and unorganized, and run the risk of being damaged by a soda or coffee spill.
Wallit™ CPU LCD allows you to mount a VESA compliant LCD monitor (15" to 22") and a thin-client to virtually any vertical surface. You can use Wallit CPU LCD to wall-mount an LCD monitor alone, or a thin-client alone, or both together.
The two-piece self-locking Wallit CPU LCD installs in minutes with an extremely low profile. Your VESA compliant thin-client gets fastened to the back of the unit's wall-mount base (using four supplied screws) which, in turn, gets mounted to the wall. Your VESA compliant monitor gets fastened to the unit's monitor-mount (using four supplied screws), which then gets mounted and aligned onto the unit's wall-mount base for perfect positioning with no tools required.
To prevent tampering, the unit's monitor-mount can optionally get secured to the unit's wall-mount base with a standard padlock (not included).
Wallit CPU LCD supports a VESA compliant thin-client CPU up to 11.875" wide, 2.9375" deep, and accommodates a 15" to 22" flat-screen VESA compliant LCD monitor. Depending on the size and make of the monitor, the mounting system has a 15-30 degree tilt up or down.

With its open design, Wallit CPU LCD offers unprecedented venting to ensure your equipment stays cool and operating at peak performance, perfect for digital advertising, touch screens, kiosk interfaces, and much more.
Constructed of heavy-duty steel with black powder-coat finish, Rackit's Wallit™ CPU LCD is made in the USA.
• Wall-mount hardware not included