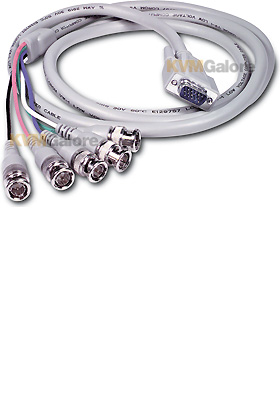 Premium VGA to 5-BNC Video Adapter Cables
Connect your monitors and HDTV's using VGA to 5-BNC Mylar-shielded video adapter cables featuring fully-molded connectors for strain relief
Read more below...

$24.99
Compare to MSRP $43.99 -
You save $19.00

$22.09
Compare to MSRP $33.99 -
You save $11.90
Provides a Crisp Video Image for Monitors, HDTV and Other Video Applications.
These cables are constructed from premium quality 75 Ohm mini coax wires to ensure crisp monitor images.
Low loss 75 Ohm impedance and poylethylene dielectric provide accurate picture resolutions and colors. Each wire is shielded with 100% MylarŽ foil and 85% copper braid that is soldered 360° to the connector shell to create a shielding solution for a vivid, noise-free image.
Color-coding of the five separated monitor signals provides easy identification of red, green, and blue leads with horizontal and vertical sync. Fully molded connectors provide excellent strain relief to keep your cable intact.