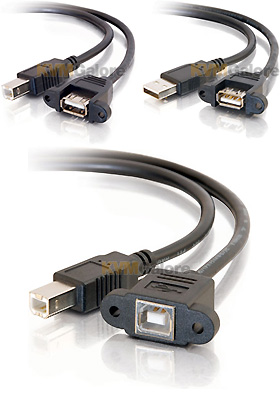 Fixed USB Functionality Where You Need It!
Build USB functionality into a custom system in the form of a secure and efficient fixed port. Provide access to a PC, printer, projector, or other device with minimal exposure or repositioning.
From basic port re-routes in a PC, to connections at podiums and kiosks, panel-mount cables are a great way to keep your connections clean and professional.
Foil and braid shielding reduces EMI/RFI interference, and twisted pair construction helps reduce crosstalk thus ensuring high-speed, error-free data transfer.
These cables also features molded screw-style connectors that enable easy connection to a faceplate or machined port.
Featuring USB 2.0 compatibility, these cables are available in various configurations and lengths to meet your exact specifications.