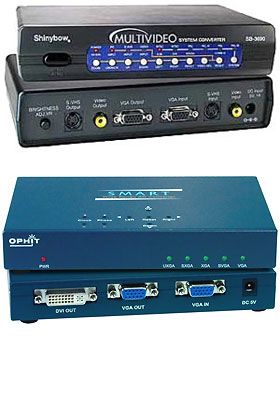 Interchangeable video format converters for computers, TVs, VCRs, DVDs, security cameras
NTI Video Converters provide interchangeable video-format conversions:
• Digital DVI to analog VGA
• Analog VGA to single-link digital DVI
• Computer (VGA) to TV
• TV/VCR/DVD to VGA
BNC + S-Video to VGA Converter converts S-video and BNC/RCA composite video devices such as security cameras to VGA video.
DVI to VGA Converter converts digital DVI video to analog VGA video.
MultiVideo System Converter allows viewing computer VGA video on a s-video/composite TV, or viewing s-video/composite TV/VCR/DVD video on a VGA computer monitor, while stabilizing weak video signals from multi-generation videotapes.
VGA to DVI Converter converts analog VGA video to single-link Digital DVI-D video.