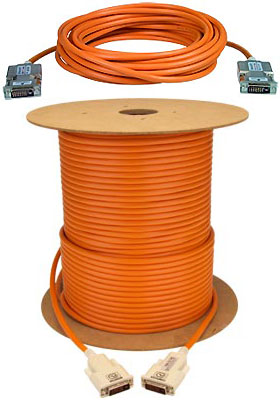 DVI-D active fiber optical cables for high-resolution long runs
XTENDEX® DVI active optical cables locate a DVI display up to 98 feet from a video source. Using optical fiber, this cable provides high reliability DVI signal transmission with zero signal loss in high noise environments.
These are hybrid cables containing both fiber optic and copper cores. RGB and clock signals are transmitted by optical fiber. DDC signal is transmitted by the copper line.
XTENDEX® DVI active optical cables are the ideal solution for a wide range of applications. Examples include:
• Medical imaging equipment
• Airplane on-board video system
• Home theater
• TV broadcast station
• Conference room video equipment