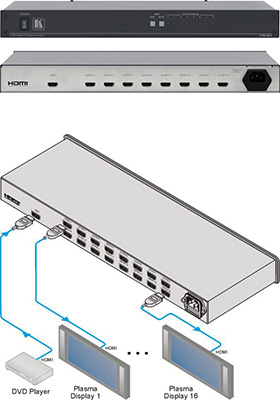 4- 8- and 16-port HDMI splitters (distribution amplifiers)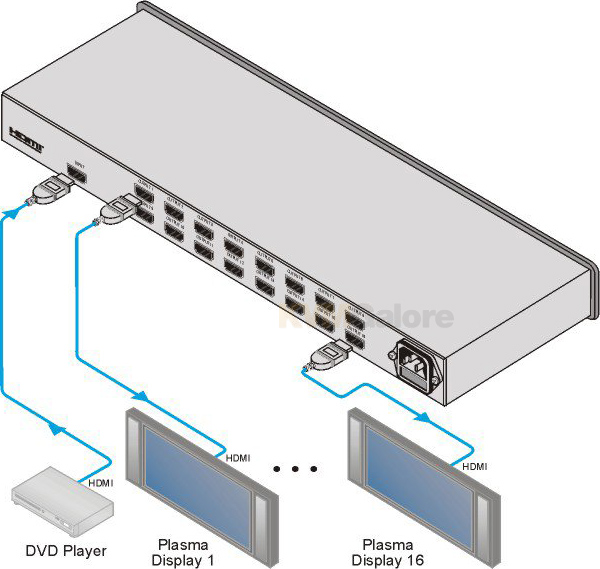 Kramer HDMI distribution amplifiers reclock and equalizes the signal and distribute it to 8 or 16 identical outputs.
Kramer HDMI distribution amplifiers are high quality distributors that accept an HDMI input and distribute the signal to 4, 8 or 16 outputs, allowing one or more of the outputs to be connected to receiving devices, thus making them a versatile, reliable component in a video system.
Kramer HDMI distribution amplifiers distribute signals having resolutions up to and including 1080p, and all HDTV formats.
In particular, the HDMI distributors feature:
• Up to 2.25Gbps bandwidth per graphic channel
• Data reclocking and equalization
• A default EDID for fast and efficient connection of the unit
• I-EDIDPro™ Kramer Intelligent EDID Processing™, an intelligent EDID handling and processing algorithm that ensures Plug and Play operation for HDMI systems
• 3D pass-through
• HDMI support - HDMI (with Deep Color, x.v.Color™, Lip Sync, HDMI Uncompressed Audio Channels, Dolby TrueHD, DTS-HD, CEC)
• HDMI connectors, output status LEDs, and EDID read and select buttons
Kramer HDMI distribution amplifiers are housed in a 19" 1U rack-mountable enclosures, and are fed from a 100-264V AC universal switching power supply.
Kramer HDMI distribution amplifiers are ideal for:
• Home theater, presentation and multimedia applications
• Rental and staging
• Retail store displays
VM-4HC: 4 screens
VM-1H4C: 4 extended screens over CATx to remote Receivers
VM-8H: 8 screens
VM-16H: 16 screens