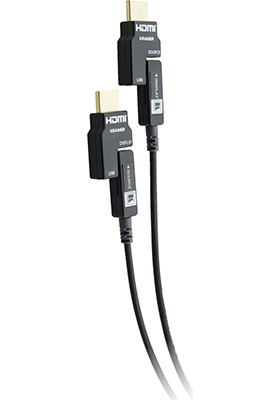 Plenum-rated active optical Ultra-HD pluggable HDMI cables

Kramer's AOCH/60 are state of the art active optical HDMI cables for running 4K Ultra-HD @ 60Hz (4:4:4) HDMI 2.0 signals over long distances up to 100 meter (328 feet), in a simple and practical way. These hybrid-fiber HDMI cable-ends can quickly detach, offering a much smaller head that can be run through conduit or other tight spaces. With the included pulling capsule, cable-ends are also interchangeable - DVI ends can be purchased separately.
CP-AOCH/60 has a slim design to let you pull the cables easily (together with the supplied pulling tool) through small-sized conduits. CP-AOCH/60 cables are thinner, lighter and more flexible than copper or even standard optical cables. They offer transparent EDID, HDCP and HDR support with no signal attenuation and reduced risk of EMI and RFI interference. CP-AOCH/60 cables are an ideal solution for maximizing signal integrity in critical AV installations.
CP-AOCH/60 is ideal for long distance transmission in professional AV systems, indoor and outdoor digital signage and kiosks, home theater systems, surgical theaters, facility automation systems and whenever high resolution video and audio are required.
CP-AOCH/60 includes four optical fibers and six AWG 28 wires with compact size HDMI connectors. On the source side, the micro HDMI connector enables smooth pulling of the cable. The SOURCE end connects to the source (for example, a DVD, Blu-ray or game console box) and the DISPLAY end to the acceptor (for example, a projector, an LCD display or a tablet device).