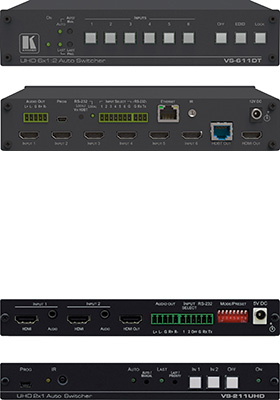 4K Ultra-HD 2-port HDMI auto switchers
with audio embedding and de-embedding
---
2- 4- and 6-port high-performance automatic switchers for 4K/60 Ultra-HD (4:2:0) HDMI and analog audio signals. The units automatically switch to a predefined or the last connected input whenever the currently active video signal is interrupted or whenever a higher-priority video signal is detected.
4K/Ultra-HD HDMI auto switchers support automatic input detection and selection, and manual or fast auto switching to last connected or preset priority. They also feature auto-power off when there's no HDMI input for 10 seconds (selectable), and HDCP on/off switching.
4K/Ultra-HD HDMI auto switchers are ideal for education, entertainment, corporate and any other AV installation that requires selecting and switching between two HDMI sources automatically.
VS-211UHD: 2 ports
VS-411UHD: 4 ports
VS-611DT: 6 ports; local and HDBaseT output w/ PoE