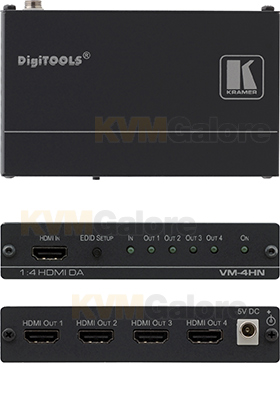 4K/Ultra-HD HDMI splitters (distribution amplifiers)
for distributing one 4K Ultra-HD HDMI source to two, three, four or eight local screens, supporting Deep Color, Lip Sync, audio, EDID and 60 Hz refresh rate
---
Kramer's 4K HDMI splitters are distribution amplifiers for HDMI signals. They reclock and equalize the signal and distributes it to four identical outputs.
Kramer's 4K HDMI splitters, with their maximum data rate of 10.2Gbps (3.4Gbps per graphic channel) distribute signals with resolutions up to 4K @ 60Hz (4:2:0). They also support WUXGA (1920x1200) up to 12-bit color, and 1080p at all color bit depths.
Kramer's 4K HDMI splitters support Deep Color, x.v.Color™, Lip Sync, HDMI Uncompressed Audio Channels, Dolby TrueHD, DTS-HD, and CEC. They are HDCP compliant and feature I-EDIDPro™ Kramer's Intelligent EDID Processing™, an intelligent EDID handling and processing algorithm that ensures Plug and Play operation for HDMI systems. In addition the default, pre-programmed EDID allows Kramer's 4K HDMI splitters to be connected quickly and without having to connect a display to the output. Kramer's 4K HDMI splitters also pass 3D.
VM-2H2: Distributes to two local HDMI screens - 4K @ 60Hz (4:4:4) support
VM-2HN: Distributes to two local HDMI screens - 4K @ 60Hz (4:2:0) support (older model)
VM-2UHD: Distributes to two local HDMI screens - 4K @ 60Hz (4:2:0) support
VM-3H2: Distributes to three local HDMI screens - 4K @ 60Hz (4:4:4) support
VM-3HN: Distributes to three local HDMI screens - 4K @ 60Hz (4:2:0) support (older model)
VM-3UHD: Distributes to three local HDMI screens - 4K @ 60Hz (4:2:0) support
VM-4H2: Distributes to four local HDMI screens - 4K @ 60Hz (4:4:4) support
VM-4HN: Distributes to four local HDMI screens - 4K @ 60Hz (4:2:0) support (older model)
VM-4UHD: Distributes to four local HDMI screens - 4K @ 60Hz (4:2:0) support
VM-8HN: Distributes to eight local HDMI screens + two loops (for local monitoring and cascading addotional splitters) - 4K @ 60Hz (4:2:0) support