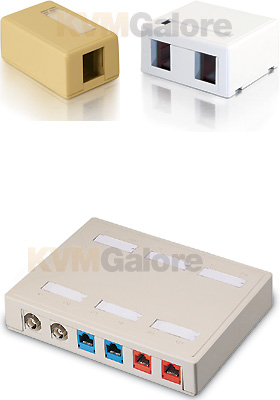 1- 2- and 12-Port Keystone-Jack Wall Mount Boxes for Either Side or Base Entry of Cables.
Keystone-Jack Wall Mount Boxes from Cables To Go are perfect for surface mount applications, especially in confined spaces. They can be mounted for either side or base entry of cables.
Boxes come with mounting screws and adhesive tape, and a cable tie for strain relief. The snap-on cover allows for easy closure or access for quick installation.
Each box includes a write-on label with holder for easy designation of different system or station.