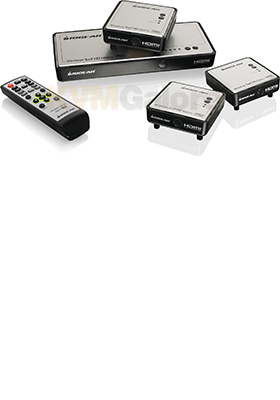 Buy this item and earn 934

Club

Points.
GWHDMS52MBK3: Watch what you want and where you want, between 4 HDTVs
wirelessly stream Full HD 1080p content from five sources to four HDTVs with 3D support; no line-of-sight required
---
IOGEAR's Long Range Wireless 5x4 HDMI Matrix PRO with Multicast is the first to send uncompressed Full HD 1080p up to an astonishing 200 feet*, including the ability of multicasting up to a total of 4 wireless HDMI receivers.
The kit consists of a Transmitter with connections for HDMI and Component (5-port switch / matrix) and three wireless receivers. It also provides a loop through (local port) on the transmitter for an advanced 4 HDTV set up. The wireless matrix feature allows a user to switch and independently select any of 5 sources between 4 HDTVs, creating 4 completely different audio/video environments.
Wireless Matrix
The Long Range Wireless 5x4 HDMI Matrix PRO is setting a new standard in wireless connectivity, flexibility, convenience and décor.
The wireless matrix feature is the biggest breakthrough in wireless A/V solutions today. This means you can watch cable TV in the living room while the bedroom independently selects a Blu-ray® movie to watch wirelessly at the same time. It's capable of streaming uncompressed Full HD 1080p with support for 3D content and digital audio up to 200 feet* away within the home or desired set up.
Multicast Capability
Expand beyond one wireless display to multiple wireless displays with Multicast capabilities. Simply add 1 additional wireless receivers broadcasting to a total of 4 wireless receivers from the same HD video source.
Discrete Remote
IOGEAR's newly designed discrete remote gives installers and prosumers the flexibility to consolidate functions with professional A/V systems.
Infrared (IR)
Supports IR pass-through - Use remotes from your current source devices such as a DVD / Blu-ray players, DVR / cable boxes, A/V receivers and media streaming devices such as Apple® TV to design your own custom entertainment space.
EDID Management
The default EDID resolution setting is 720p, to ensure HD video on every initial set up. The PRO unit provides three (3) EDID management modes for the best installation every time. This gives flexibility and power for any install or end customer's desired set up.
• EDID 1 Mode: Changes the default setting to 1080p Full HD.
• EDID 2 Mode: Refreshes the screens and sets the highest common resolution of ALL the connected displays.
• EDID 3 Mode: Restores the factory default video resolution back to 720p
Home Design
Take re-decorating, retrofitting and designing to a new level of creativity and convenience. Ever wanted to set up another HDTV in the bedroom, kitchen, den or patio? Now you can have an HDTV in almost any room of the house. Set up the HDTV in the back patio for sporting events while the kids play video games or watch a Blu-ray movie in the living room!
The Long Range Wireless 5x4 HDMI Matrix PRO does not require a line-of-sight placement, keeping home theater devices neatly out of sight, which enables a quick, simple, and flexible wireless HD or 3D audio/video solution.
Features and Benefits
• Long Range Wireless 5x4 HDMI Matrix PRO with Multicast
• Wireless uncompressed Full HD 1080p video up to 200 feet* through standard home walls
• Built in 5x4 Matrix - Allows you to switch and independently select any of 5 sources between 3 HDTVs
• Location 1: HDTV can connect to transmitter's loop-through (local) port
• Location 2 and 3: HDTV can receive content from wireless receiver
• Multicast** up to 5 HDTVs – Send content to up to 5 locations at the same time (4 wireless)**
• Connect and wirelessly transmit content from a Blu-ray / DVD players, DVR / cable boxes, game consoles, computers / laptops, media streaming devices such as Apple TV and media servers
• Supports 3D content and 5.1 channel digital audio
• Based on WHDI™ Technology
• HDCP 2.0 compliant
• Built-in infrared (IR) pass-through allows user control over their source devices that are in a different location from the wireless receiver
• No software or driver installation needed
• Warranty: 1-year
Video Resolutions
480p, 720p, 1080i and 1080p (24/30/60fps)
Wireless Transmitter HDMI® Inputs / Outputs
4x HDMI In
1x Component In
1x HDMI Out (local port)
1x IR Out
Wireless Receiver HDMI® Inputs / Outputs
1x HDMI Out
1x IR In
Package Content
1x Wireless HDMI Transmitter
3x Wireless HDMI Receiver
2x Remote Controls
1x Component Adapter Cable
1x IR Blaster Cable (Transmitter)
1x IR Sensor Extender Cable (Receiver)
2x Power Adapters
1x HDMI Cable
4x AAA Batteries
1x User Manual
1x Warranty Card
* Distances may vary depending on environment; solid objects such as steel, concrete and brick may cause shorter viewing distances or loss of signal
** Wireless HDMI Receiver – Part# GWHDRX01 sold separately