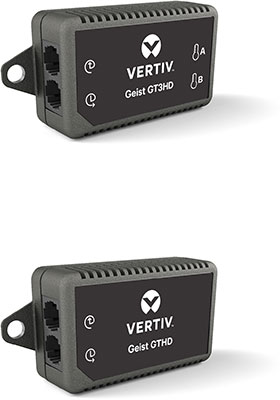 Daisy-chainable temperature/humidity/dew-point sensors
for in-row monitoring of multiple racks
---
GTHD and GT3HD digital temperature/humidity/dew-point sensors provide real-time measurements to the host device for data logging and alarming. GTHD and GT3HD collect and transmit real-time temperature, humidity and dew point data to protect critical data center equipment from heat and moisture.
An RJ12 patch cable for connection from sensor to host Watchdog monitoring appliance is included. The plastic enclosure mounts easily anywhere in the data center with screws, magnets or adhesive.
GTHD and GT3HD require a Watchdog monitoring appliance host device to transmit data. They count as a single digital sensor while reporting multiple temperature readings.
Each GTHD and GT3HD unit may be daisy chained with other GTHD or GT3HD sensors to form a sophisticated climate monitoring network with real-time data logging and alarming. This is especially useful when achieving in-row temperature monitoring for top, middle, and bottom of each rack as per ASHRAE guidelines.
GTHD and GT3HD are especially useful for watching out for rapid temperature drops and/or high humidity that can cause condensation to form on electronic equipment, resulting in hardware corrosion and component failure. Electrostatic discharge is likely to occur at low relative humidity levels, which can severely damage sensitive IT equipment.
Based on ASHRAE's recommended humidity range for IT equipment, ITWatchDogs suggests setting relative humidity alarm thresholds for when the value exceeds 55% or falls below 40%, however each facility is unique and may require varied ranges.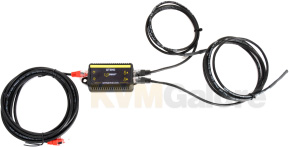 GT3HD is an enhanced version of the GTHD, adding two additional inputs strictly compatible with remote temperature sensors, for a total of three (3) temperature readings. The unit comes kitted with 3-foot and 6-foot temperature sensors and is especially ideal for monitoring top, middle and bottom of a server rack.