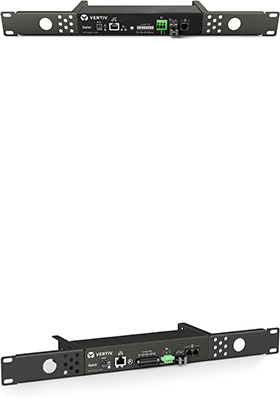 Buy this item and earn 297

Club

Points.
G1685: Compact environmental monitoring and relay control appliance (universal power supply)
with temperature, humidity, dew point on-board sensors and built-in PoE (power over Ethernet)
---
• On-board sensors: Temperature, Humidity / Dew Point
• Features built-in power over Ethernet (PoE)
• Firmware: SNMP (v1, v2c), Email & SMS alerts, Alarm Escalations, Logging, XML & CSV Logs, 3 Access Account Levels, Interfaces IP Cameras
• Ports: Digital: 2; Analog: 4; Relay Output: 1
WatchDog 100P is a self-contained unit with with built-in PoE and on-board temperature and humidity/dew-point sensors. It has an input capacity of eight external sensors and an output of one NO/NC relay contact for triggering external devices like an auto-dialer.
Like with all other ITWatchDogs environmental monitors, WatchDog 100P allows users to keep an eye on remote conditions from a secure web interface and receive SNMP, E-mail, text message and voice call* alert notifications when user-adjustable thresholds are exceeded.
The web interface provides an overview of environmental measurements with real time sensor data. All measurements are logged allowing users to collect data for trending and capacity management.
WatchDog 100P offers flexible access rights and security settings with up to three access account levels. It offers secure access through the web and supports HTTP and HTTPS protocols. Up to 50 customizable alarms can be configured with alarm escalations per sensor.
WatchDog 100P features four 0-5VDC / dry-contact analog inputs and one digital sensor port. Up to four digital sensors can be connected using a standard splitter.
A variety of optional plug-and-play sensors are available for use with the WatchDog 100P including but not limited to, temperature, humidity, airflow, water and smoke detection sensors, door position, power failure and more.
One of the unique features of the WatchDog 100P is its relay contact port used to energize or de-energize an external device.
At just 1U high and approximately 8.5" wide, WatchDog 100P is a compact solution perfect for tight installments. WatchDog 100P is shipped with rack-mount brackets offering flexible wire management options.
Easily view and log temperature, relative humidity / dew point and external sensors over the intranet or the Web. No software required - securely access the graphical user interface from a web browser.
Built-in Power over Ethernet (PoE) converges power and data in between the switch and WatchDog 100P, eliminating the need for electrical wiring. Power adapter is provided for applications without PoE support.
SNMP, Email & SMS Alerts
WatchDog 100P can trigger escalating alarms if temperature or humidity fall outside of specified parameters via SNMP (v1, v2c), email and SMS messages (e-mail to SMS gateway). For example, specify an email notification to one or more users at 70° F, add another layer of personnel to the email alarm at 80° F, add your third party contractor at 85° F. Specify up to 50 alarms per unit.
Interface Network IP Cameras
The Web page interfaces with up to four IP cameras (not included), allowing you a quick view of remote conditions, especially useful in event of alarm.
No Software Required
WatchDog 100P is simple to install and use, requiring no special software other than a standard Web Browser. WatchDog 100P connects to an Ethernet network with a standard RJ45 connector and sends data in standard TCP/IP packets. It is easily configured with a simple menu using a Web Browser and can be password protected with 3 access account level types: Administrator, Control, View Only. From within an Intranet or over the Internet, the user can securely access the monitor by entering its IP address.
Features and Benefits
• Built-in sensors: Temperature; Humidity: Dewpoint; Output Relay
• 4 analog inputs for dry-contact or 0-5 VDC sensors
• Digital sensor port (connect up to 4 sensors using splitters)
• Set alarms and get alerts via email, SMS, SNMP and voice*
• Relay output for external device control
• Control relay via alarm or manually through web
• Real Time Clock (RTC) with power backup
• Reset IP push-button: Restores factory defaults
• Relay output: With three terminals (NC, NO, Com) the relay output can be used in applications requiring Normally-Closed or Normally-Open (a bi-color led tells if the relay is energized or de-energized)
Software Features
• HTTP/HTTPS: web access
• Alarms: High/low values, multiple thresholds per sensor
• ESMTP: Email alerts, ESMTP auth
• SNMP (v1, v2c): Gets, trap and clear alerts, MIB
• Paging: Email to pager proxy
• XML: Meta-tagged sensor values, alarms, config
• Syslog: Send debug messages to Syslog server
• Access-control: 3 access levels (admin, control, view only)
• Web cams (optional): Up to four can be displayed
• Compatible with WatchDog Console Aggregator
In the Box
1x Watchdog 100P with brackets attached
1x International wall-wart power supply
1x Warranty card
1x Certificate of conformance
1x Quick start guide
* Requires an auto-dialer (purchased separately).