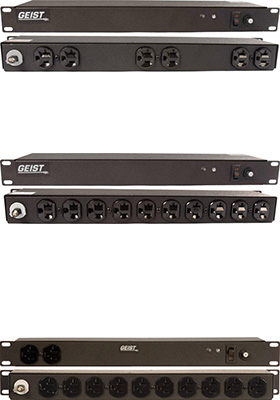 20A, 120V, breakered horizontal PDUs w/ NEMA 5-15R or 5-20R rear or front receptacles
power switch, 10- or 15-foot power cord w/ 5-20P or L5-20P plug, black powder coat
---
Geist's basic PDUs offer reliable power distribution to the cabinet to help manage power capacity and increase functionality.
BR100-1020 functions as a basic power strip without built-in surge protection. This unit is ideal for installations in facilities with proper surge protection at the main electrical service entrance.
Not the right PDU?
Use Geist PDU finder to find the PDUs that match your requirements, then lookup the model number(s) on KVMGalore.com.
Geist's PDU finder browses through Geist's extensive selection of PDUs, allowing you to find the right PDU for your needs, based on...
Electric parameters
• PDU type (Basic; Monitored; Switched; Metered; Inline; Auto Transfer-Switch)
• PDU sub-type (Standard; Upgradeable; Surge)
• Amps
• Volts
• kW
Physical parameters
• PDU's configuration (horizontal/vertical)
• PDU's length
Plug
• Plug type
• Plug form
Receptacles
• Receptacle type
• Receptacle count
Features
• Local display
• On/Off switch
• Breaker
• Environmental