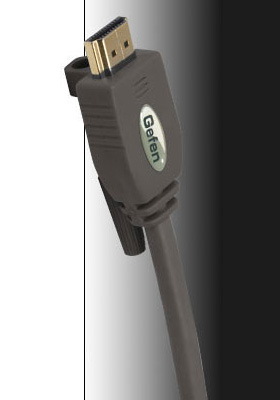 High-speed copper-based HDMI cables with Ethernet and Mono-LOK
Gefen HDMI Cables with Ethernet and Mono-LOK are perfect for highly demanding installations. The cables provide a secure and fixed way of connecting with the source and display.
Gefen Mono-LOK High-Speed HDMI Cables with Ethernet support all of the latest-generation HDMI features, including an Ethernet connection through the HDMI cable, Audio Return Channel, 3DTV, and up to 4K resolution.
• Supports HDMI Ethernet Channel (HEC), which consolidates video, audio, and data streams into a single HDMI cable, combining the unmatched signal quality and convenience of HDMI connectivity with the power and flexibility of home entertainment networking. It incorporates a dedicated data channel into the HDMI link, enabling high-speed, bi-directional networking at up to 100 Mb/sec.
• Supports the HDMI Audio Return Channel (ARC), which enables a TV, via a single HDMI cable, to send audio upstream to an A/V receiver or surround audio controller, increasing user flexibility and eliminating the need for any separate S/PDIF audio connection.
• Supports HD resolutions up to 4K (4096 x 2160) in sharp, vivid Deep Color with up to 8 channels of embedded digital audio.
Hex hardware is included with Gefen's Mono-LOK products for conversion of compatible HDMI connectors.