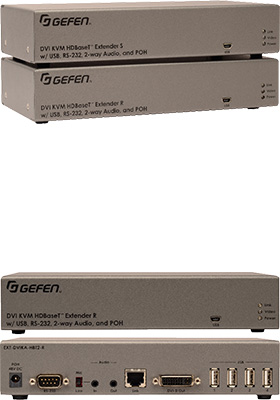 Buy this item and earn 555

Club

Points.
EXT-DVIKA-HBT2: 4K/Ultra-HD DVI and USB HDBaseT extender over one CAT-5 cable
with PoH (power over HDBaseT), RS-232 extention, bi-directional IR and audio extention, and a 4-port USB hub on the Receiver end
---
Extends:
• DVI
• USB keyboard/mouse
• USB 2.0 peripherals
• RS-232
• Infrared (bi-directional)
• Audio (bi-directional)
EXT-DVIKA-HBT2 uses Gefen's implementation of HDBaseT™ 2.0 technology to extend DVI over a single CAT-5e cable, up to 495 feet (150 meters). HDBaseT™ 2.0 Colligo™ platform provides additional features such as USB and 2-way audio extension, and ensures an even more robust and resilient connection than the industry standard HDBaseT™.
Resolutions up to 1080p and 1920x1200 (WUXGA) are supported. HDMI resolutions up to 4K DCI-Cinema (4096x2160 @ 30 Hz 4:4:4) and 4K Ultra-HD (3840x2160 @ 60 Hz 4:2:0) along with 7.1 channels of LPCM and HBR (High Bit Rate) lossless digital audio are also supported when using Gefen DVI to HDMI cables. Supported HBR formats include Dolby Atmos®, Dolby® TrueHD, DTS:X™, and DTS-HD Master Audio™.
USB, RS-232, and 2-way L/R analog audio can be extended between the Sender and the Receiver to accommodate a complete workstation including keyboard, mouse, select USB periperals, microphone, headphones, and powered speakers.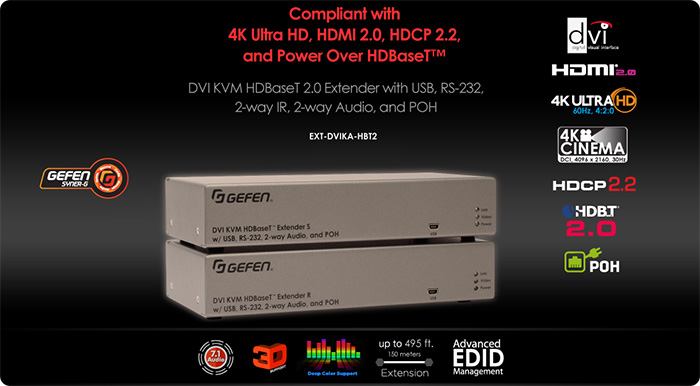 PoH (power over HDBaseT™) technology provides power from the Receiver to the Sender unit, using the same CAT-5 cable that extends the DVI, audio, and control signals. Only the Receiver unit needs an external power supply. The PoH standard ensures compatibility with other PoH class-compliant devices.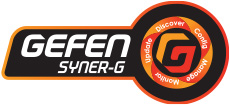 Gefen Syner-G™ software with its powerful EDID management capabilities speeds up configuration, performs real-time performance analysis via Link Monitoring, and simplifies in-field firmware updates.
1U tall, half-rack-width enclosures can be surface-mounted, installed in a standard 19-inch rack using rack trays*, or be placed on a shelf.
Installation tip: Shielded (STP) CAT-5e or better cable is recommended. Unshielded (UTP) CAT-5e or better cable may be acceptable depending on cable quality, but results could vary. Care should always be taken to keep the link cable away from power lines and other sources of electromagnetic interference.
Extends DVI, USB, RS-232, and 2-way audio over a single CAT-5e
• 1080p Full HD (1920x1080 @ 60Hz, 4:4:4, 12-bit), up to 330 feet/100 meters
• 1080p Full HD (1920x1080 @ 60Hz, 4:4:4, 8-bit), up to 495 feet/150 meters
• WUXGA (1920x1200 @ 60Hz, 8-bit), up to 495 feet/150 meters
Extends HDMI**, USB, RS-232, and 2-way audio over a single CAT-5e
• 4K Ultra-HD (3840x2160 @ 60Hz, 4:2:0, 8-bit), up to 330 feet/100 meters
• 4K Ultra-HD (3840x2160 @ 30Hz, 4:4:4, 8-bit), up to 330 feet/100 meters
• 4K DCI-Cinema (4096x2160 @ 30Hz 4:4:4, 8-bit), up to 330 feet/100 meters
• 1080p Full HD (1920x1080 @ 60Hz, 4:4:4, 12-bit), up to 330 feet/100 meters
• 1080p Full HD (1920x1080 @ 60Hz, 4:4:4, 8-bit), up to 495 feet/150 meters
• WUXGA (1920x1200 @ 60Hz, 8-bit), up to 495 feet/150 meters
HDMI Features Supported
• HDMI 2.0 up to 4K 60Hz, 4:2:0, 8-bit color
• HDCP 2.2 and 1.4
• 12-bit Deep Color
• LPCM 7.1 audio, Dolby Atmos®, Dolby® TrueHD, DTS:X™, and DTS-HD Master Audio™ pass-through
• 3DTV pass-through
• CEC pass-through
• Lip Sync pass-through
Features and Benefits
• Analog L/R stereo audio extension from Sender to Receiver and from Receiver to Sender
• Receiver audio input accommodates a microphone or a line level audio source
• PoH (power over HDBaseT™) feature provides power to Sender unit over the link cable - only the Receiver needs external power
• Advanced EDID management via Gefen Syner-G™ software
• Link Quality Monitoring via Gefen Syner-G™ software
• In-field firmware update via USB, using Gefen Syner-G™ software
• Locking power connector
• 1U tall, half-rack-width enclosures can be surface-mounted, installed in a standard 19-inch rack using rack tray* (available separately); placed on a shelf
Package Includes
(1) DVI KVM HDBaseT™ Extender - Sender unit (EXT-DVIKA-HBT2-S)
(1) DVI KVM HDBaseT™ Extender - Receiver unit (EXT-DVIKA-HBT2-R)
(1) DVI cable (M-M) - 6 ft (CAB-DVIC-DLN-06MM)
(1) Mini-phone Analog Audio cable (M-M) - 6 ft (CAB-AUDIO-6)
(1) DB-9 cable (M-F) - 6 ft (CAB-DB9-6MF)
(1) USB Type A to Type B cable (M-M) - 6 ft (CAB-USB-6)
(4) L-Shaped Surface-Mounting Brackets (EXT-MP-C01)
(8) Machine Screws for use with the Surface-Mounting Brackets: M3, 0.5mm pitch, 6mm long, Phillips Flat Head (SCR-M3-05-06-FH-NP-AB)
(4) Machine Screws for use with a rack tray*: 6-32, 5mm long, Phillips Flat Head (SCR-6-32-05-FH-NP-AB)
(8) Self-Adhesive Rubber Feet (PAD-20-05-GRY-AB)
(1) 48V DC Power Supply w/ AC cord and regional plugs (EXT-PS48U1A-LP-6)
(1) Quick-Start Guide (QSG-EXT-DVIKA-HBT2)
* Rack trays EXT-RACK-1U and EXT-RACK-1U-GRY are available separately (see listing below)
** Use DVI to HDMI cables