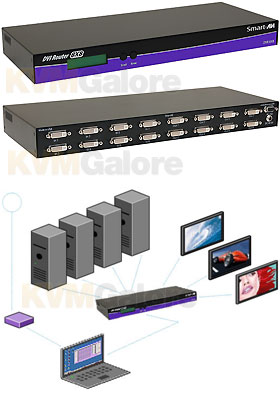 Buy this item and earn 1,274

Club

Points.
DVR8X8S: A non-blocking 8x8 digital video matrix switch
The DVI Router 8x8 is a high-quality switching matrix for up to 8 computer/display signals. This allows an easy and dynamic approach to displaying content from any 8 computers on any 8 screens independently up to 20 feet away (on both input and output ends).
SmartAVI's non-blocking digital video matrix switch provides an easy and dynamic approach to creating up to 8 computer stations, each with the ability of accessing any one of the CPUs or displays instantly either directly or remotely, using RS-232 commands, Ethernet and/or IR input.
SmartAVI's DVI router is controlled by Windows®-based software that is easy to understand and simple to use – a cornerstone of all SmartAVI products.
The SmartAVI DVI Router 8x8 provides single-link, DVI-D operation at the maximum TMDS rate of 2 x 1.65 Gbps at resolutions up to 1920 x 1200. The DVI signals can be transmitted through 20 feet of copper at the maximum TMDS rate on both the input and output sides of the switch.
Control
The SmartAVI DVI Router 8x8 can be controlled from the front panel via keypad and LCD, allowing users to see which inputs are connected to which outputs. SmartAVI's Windows®-based software (SmartControl) allows for simple user interface when controlling the DVI Router. Additional optional control methods available for the DVI Router are IR and Ethernet.
Software
SmartAVI's DVI Router 8x8 hardware comes with the easy-to-use Windows®-based SmartControl software application that makes user interface simple. Using SmartControl, you can assign a unique name to each port on the DVI Router, customizing projects to your liking and needs.
Features and Benefits
• Increases productivity by providing access to up to 8 computers from 8 workstations
• 8x8 non-blocking, single-link DVI-D matrix switch
• Adjustable output pre-emphasis and drive level
• Supports DVI operation at the maximum rate of 2 x 1.65 Gbps
• Supports resolutions up to 1080p, 2k and 1920x1200
• Control from either front panel or RS-232
• Available IR remote
• Ethernet control available
• Easy-to-use Windows based software