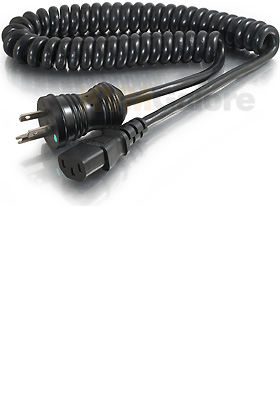 Coiled, 18 AWG Replacement Power Cords (NEMA 5-15P to IEC320C13) for PCs, Monitors, Printers, and Lab Equipment, Specifically Crafted for the Tough Hospital Environment.
Power cords used in hospitals and other medical settings must conform to strict standards for grounding reliability, assembly integrity, strength and durability, as well as regulatory standards such as NEMA and IEC specifications. These standards are in place to ensure that power cords are safe and reliable for use in demanding hospital environments.
The coiled hospital grade power cord selection from Cables To Go is ideal for replacing overused or misplaced power cables, or to optimize office or lab layouts with a "coiled" cable that is minimized when extra length is not required.
Ideal for medical carts and mobile devices, these cables will work with most PCs, monitors, scanners, printers and many other devices that are powered via the industry standard 3-pin C14 connector inlet.
The female C13R connector plugs directly into the device while the male hospital grade NEMA 5-15P connector plugs into a hospital grade supply outlet.
The black connectors match almost any environment or hospital standard.
Performance is guaranteed through a lifetime warranty so performance is never an issue.
Easily recognizable with the Green Dot mark, this hospital grade power cord ensures compliance and delivers maximum performance.