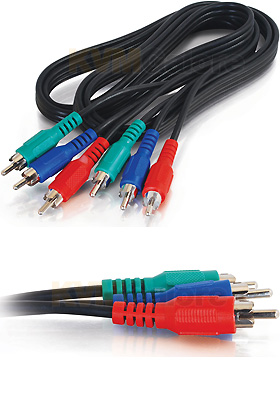 Transfers the video signal between a DVD player and a TV or projector
Component video cables bypass a TV's Y/C separator and color decoder, routing the color (Y/Pr/Pb) information directly into the TV's matrix decoder. By sending the pure DVD component video signal directly to a component video input-equipped display device, the DVD signal forgoes the extra processing that normally would degrade the image. The result is a vastly increased image quality, with incredibly lifelike colors and crisp detail.
Choose Value Series and make the right choice to connect the component video signal from your DVD player to your TV or projector.
These low cost cables are quality-made to deliver crisp, clear video for less. The cables' shielding helps reduce unwanted noise and distortion. Nickel terminals ensure long-lasting, corrosion-free connections while the PVC jacket adds flexibility and durability. The fully molded connectors are color-coded red/green/blue for easy installation and identification, and provide excellent strain relief.