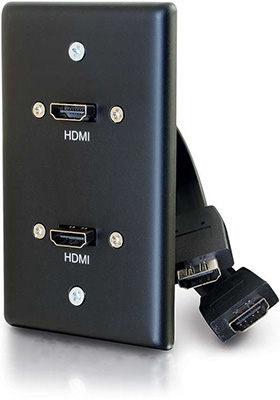 Complete an in-wall HDMI cabling installation
with these wall plates featuring flexible pigtails and supplementary connections
---
HDMI pass-through wall plates are perfect for the transition to in-wall cabling. These solutions offer a clean, professional look and are ideal for classrooms, conference rooms and houses of worship.
The HDMI pass-through port includes a thin, flexible pigtail that accommodates the tight bend radius required for installations within a standard junction box. In addition, different models offer supplementary connections:
3.5mm audio
Composite audio/video
Decorative cutout
USB
VGA
Constructed of high quality aluminum, these wall plates are designed for durability and a long life in commercial environments where constant wear and tear causes damage.