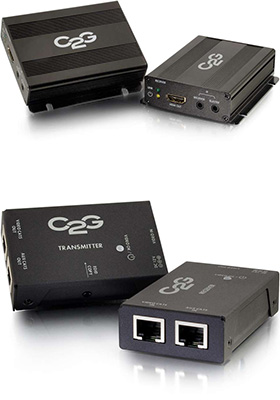 Extend HDMI video and audio signals up to 197 feet
at 4K or 1080p video resolution using one or two CATx cables
---
C2G HDMI over CAT-5 extenders are a perfect solution for extending audio/video signals from an HDMI source such as Blu-ray™ player to a remote projector or display, making these a great solution for digital signs, schools, churches, trade show presentations, or any application where the HDMI source is farther than 50 feet from the display.
These extenders offer a complete solution for extending HDMI audio/video signals over a singleor dual CAT-5/5e/6 unshielded twisted pair cables up to 197 feet at a 4K or 1080p resolutions. These solutions are compatible with any operating system and is truly plug and play.
With no drivers or software to install, the HDMI over CAT-5/6 extender provides total plug and play convenience. Simply connect the transmitter to the video source, the receiver to the display, and extend with a single category cable for quality video and audio.
Built-in power surge protection and high ground loop immunity ensure high performance signal extension.
29457: HDMI @ 4K; infrared (IR); 197 feet; one CAT-5 cable; HDBaseT
29271: HDMI @ 1080p; 164 feet; one CAT-5 cable
29298: HDMI @ 1080p; 160 feet; two CAT-5 cables