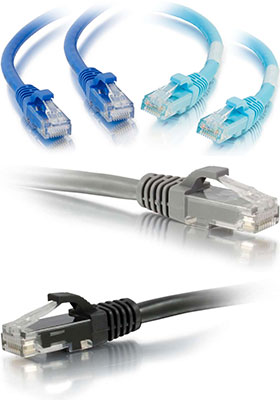 CAT-6a snagless, unshielded (UTP) Ethernet network patch cables
designed to support 10 Gigabit data transmission from 10GBase-T ports and equipment
---
These snagless unshielded CAT-6a patch cables are ideal for use with 10GBase-T ports and equipment, such as network adapters, hubs, switches, routers, DSL/cable modems and patch panels, and enable 10 Gigabit data transmission over a 4 pair copper cable allowing connections up to 100 meters.
Each patch cable is fully tested to meet ANSI/TIA 568 C.2 CAT-6a channel requirements.
Constructed from high quality cable and plugs, this design offers improved alien cross talk performance.
The snagless hood is ideal for high density switch applications.
CAT-6a snagless, unshielded (UTP) Ethernet network patch cables are available in 4 colors (gray, blue, black, green and aqua) to easily color-code a network installation, and lengths from 6 inches to 150 feet.