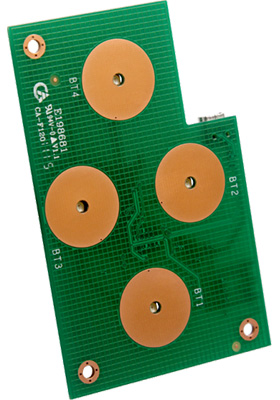 Buy this item and earn 45

Club

Points.
BP200HI: USB connected capacitive touch 4-button control pad
with high intensity LEDs for interactive displays
---
BrightSign USB capacitive touch button panel offers a demonstration and development platform for implementing button interactivity and LED controls.
BrightSign's USB capacitive touch button panel adds interactivity to any display or product demonstrations with ease. It offers not only capacitive touch button interactivity, but also
light controlled feedback allowing for the creation of unique and intuitive displays.
The button panel is easy to integrate into displays and support custom overlays and enclosures to create the look you need. Custom button panel operations are simple to program
using the BrightAuthor PC application.
BrightSign USB capacitive touch button panel connects via the USB port and is compatible with all of BrightSign's USB interactive players.
Features and Benefits
• Thin board design that can easily be overlayed with graphics and integrated into displays and enclosures
• USB connection
• Four capacitive touch buttons
• Bright red LED lighting in center of each button
• Programmable button operation and lighting are simple to program using BrightAuthor PC application
• Offers a demonstration and development platform for implementing button interactivity and LED controls
• Compatible with XT1144, XT1143, XD1034, XD1033, HD1023 and LS423
• Connects to and is powered by the USB port (USB cable not included)