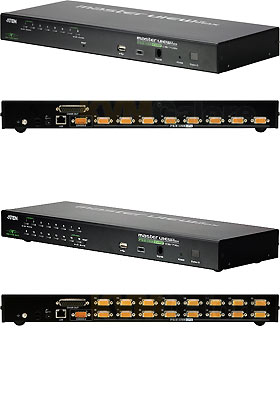 8- and 16-port, 1-user Master View Max USB/PS2 IP KVM switches
with PC, Mac, Linux and Sun compatibility and superior video quality up to 2048x1536
---
CS1708i and CS1716i KVM switches are IP based KVM switches that allow either a local or remote operator to monitor and control up to 16 directly attached servers, or through daisy chaining as many as 256 computers.
The IP console is accessed via a browser and control of the servers is accomplished via either a Java or Windows, based client. This arrangement allows you to connect to the unit from anywhere on your LAN, WAN or Internet [with a high speed connection] permitting you to work on your servers to the same degree as being in the server room, up and including BIOS adjustments.
The KVM switches feature a panel array mode where you can selectively monitor up to 16 servers simultaneously in a grid array, by simply clicking on one of the images to instantly bring that server to focus. Because up to 32 users may be logged on concurrently and the units are single bus, a message board similar to chat is provided so users may collaborate with troubleshooting.
Security features include two level user name and password protection. Users can be assigned port-by-port access rights. 128 bit SSL encryption for the browser, and RC4 128 bit encryption for secure keyboard, mouse, and video data transmission. The CS1708i and CS1716i also support authentication and authorization via remote servers, such as RADIUS, LDAP, LDAPS, and MS Active Directory.
CS1708i: 8-ports
CS1708i-TAA: 8-ports, TAA compliant
CS1708iUKit: 8-ports with cables
CS1716i: 16-ports
CS1716i-TAA: 16-ports, TAA compliant
CS1716iUKit: 16-ports with cables