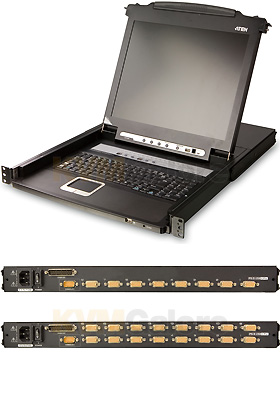 1-user, 8- and 16-port multi-platform USB/PS2 KVM switches with peripheral sharing, built-in 19- and 17-inch LCD consoles
featuring optional biometric finger print security, controlling up to 512 computers
---
ATEN's Slideaway LCD KVMP switches are integrated LCD consoles and keyboard, video, and mouse (KVM) switches that offer secure access to up to 16 attached computers and mounts in only 1U of rack space.
The LCD KVMP switches support either PS/2 or USB servers, and for added convenience an external USB mouse. A single LCD KVMP switch can control up to 16 computers, and as many as 31 additional CS1708A/CS1716A KVM switches can be daisy chained together, for a maximum of up to 512 computers being controlled from a single console.
The LCD KVMP switches incorporate a single USB hub for sharing USB devices on a one at a time basis among first tier servers. This allows updates and software installations to be performed from the common console, without needing to connect an external drive to each server or interfere with your network traffic.
For additional security a biometric finger print security module is available to supplement user name and password logins in the CL5708F and CL5716F models.
The LCD KVMP switches are simple to install and easy use, it's just a matter of connecting the cables between your servers and the KVM then using either hotkeys or the mouse driven On Screen Display to switch focus between servers; no software to install.
Your LCD KVMP swithces investment is protected by a three year warranty and a built-in firmware upgrade utility so you can stay current with the latest functionality improvements by downloading firmware update files from ATEN's website.