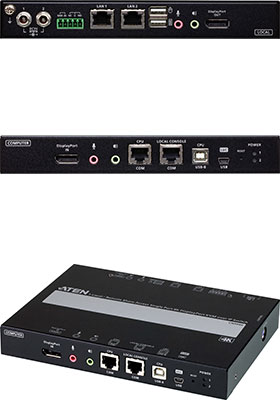 Buy this item and earn 875

Club

Points.
Single port, 4K DisplayPort/USB KVM over IP
for one local/remote user access, with virtual media
---
• Supports DisplayPort resolution up to 4K DCI (4096x2160 @ 30Hz) at both the local and remote consoles
• Provides an FPGA graphics processor for better image quality and enhanced fps (frames per second) throughput for crisp video display response
• Supports 5-pin relay/DI terminal for environment monitoring and reboot control
• Dual power supply and dual LAN for backup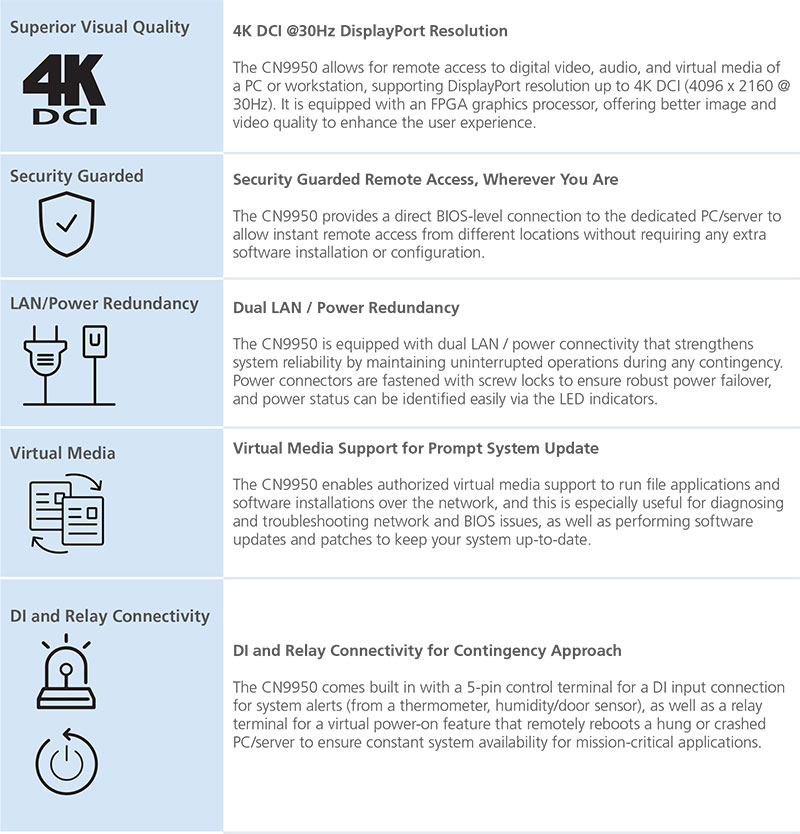 CN9950 KVM over IP gateway allows for remote access to digital video, audio and virtual media of a PC or workstation, supporting DisplayPort resolution up to 4K DCI (4096x2160 @ 30Hz) at both the local and remote consoles. Built with an advanced FPGA graphics processor, CN9950 offers better image and video quality to enhance the user experience, while also meeting the RS-232 standards for serial control.
For user-friendly operation, a mini USB port on the front panel is designed as a laptop USB console (LUC) port for connection to a laptop, which allows the user to access the PC/server for easy routine maintenance without requiring an additional monitor, keyboard and mouse.
To ensure seamless connectivity, CN9950 is equipped with dual LAN and dual power functionality to keep operations in the server room smooth and efficient. Its power status detection function automatically sends out event notifications when the devices are offline (e.g. power failure) for device status monitoring. Moreover, CN9950 features a 5-pin relay / DI (digital input) terminal block allowing for remote reboot of the local server, and receiving digital input from a connected input/alarm device for notification of critical events.

For ease of remote management, CN9950 WebClient viewer supports remote desktop access without additional software applications. The DisplayPort 4K KVM over IP gateway provides a web-based GUI for remote access and management. In addition, a unified multi-language interface can minimize user training time and increase productivity.
CN9950 is ideal for data centers, server rooms, and control rooms for remote access management in industries with requirements for high-quality images and multitasking, such as global organizations and companies with several office locations where it can function as a bridge between local and remote workplaces.
Secure Your New Normal with a Direct Hack-Proof Connection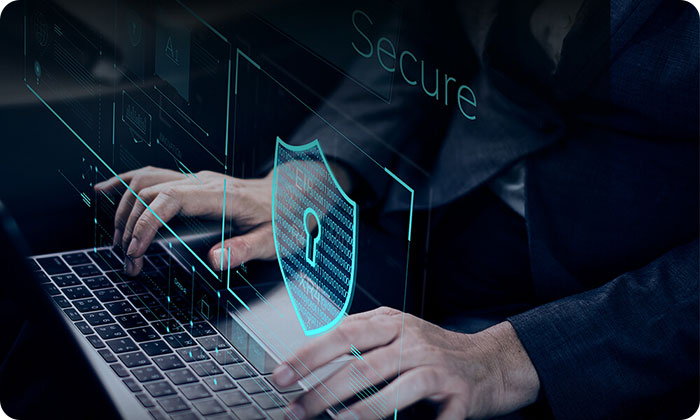 CN9950 provides over-IP capability for remote access to a dedicated PC/server via a direct BIOS-level, hack-proof network connection, and expands on previous models with increased visual excellence, up to 4K DCI resolution, by utilizing an FPGA graphics processor. It allows for secured remote access to digital audio, video, and virtual media, facilitating instant file sharing and system updates over the network without the need for any extra software installation or configuration. This assures remote work is just as effective as working locally in terms of both quality and efficiency.
CN9950 KVM over-IP gateway is ideal for global organizations and companies with several office locations by bridging local and remote workplaces with a seamless connection without any restriction or loss in productivity. It is a secure and practical solution to help keep businesses afloat during a downturn or global crises.
Security Guarded Remote Access, Wherever You Are
CN9950 provides a direct BIOS-level connection to the dedicated PC/server to allow for instant remote access from different locations without requiring any extra software installation or configuration.
Dual LAN / Power Redundancy
CN9950 is equipped with dual LAN / power connectivity that strengthens system reliability by maintaining uninterrupted operations during any contingency. Power connectors are fastened with screw locks to ensure robust power failover, and power status can be identified easily via the LED indicators.
Virtual Media Support for Prompt System Updates
CN9950 enables authorized virtual media support to run file applications and software installations over the network, and this is especially useful for diagnosing and troubleshooting network and BIOS issues, as well as performing software updates and patches to keep your system up-to-date.
DI and Relay Connectivity for Contingency Approach
CN9950 comes built in with a 5-pin control terminal for a DI input connection for system alerts (from a thermometer, humidity/door sensor), as well as a relay terminal for a virtual power-on feature that remotely reboots a hung or crashed PC/server to ensure constant system availability for mission-critical applications.
Applications
CN9950 is ideally suited for use in control rooms and server rooms of diverse industries, as well as work-from-home scenarios.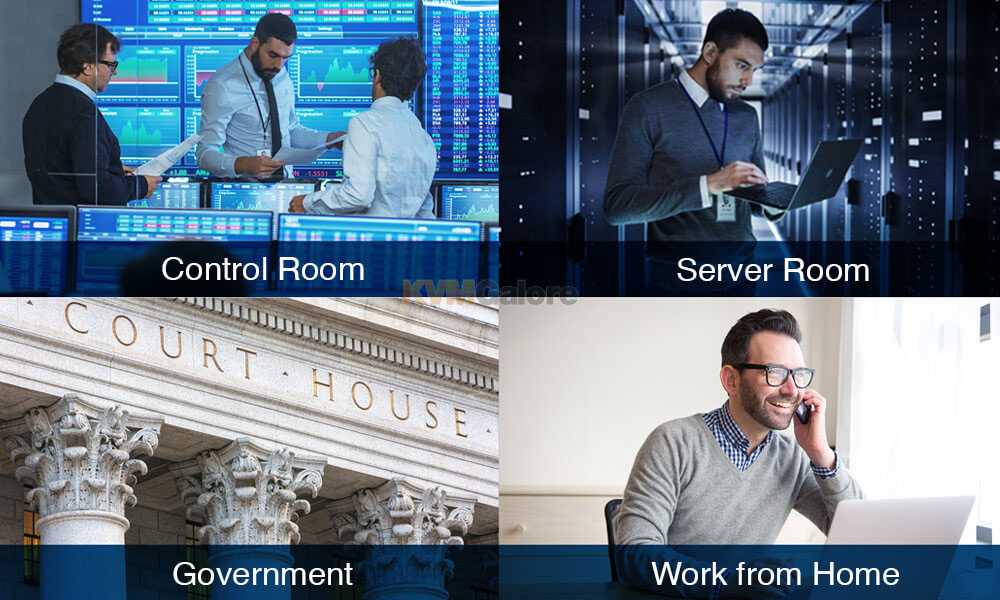 Solution Setup
This hardware-based remote access path is separated from the operation network to keep data and workflow secure from end to end, hence there are no concerns about data leakage, backdoors, or any form of cyber attack, something that a software solution cannot guarantee.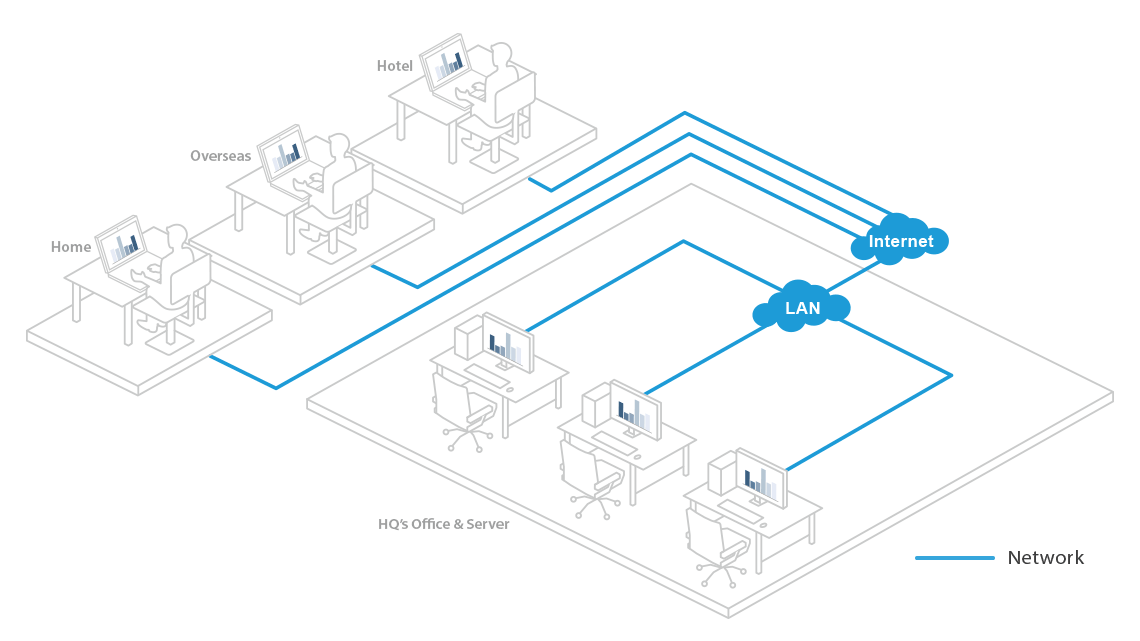 Optional KVM over IP Console Stations
For broadcast, control rooms, labs and studios, or anywhere instant access is needed and stringent security is required (replacing a PC), optional KVM over IP console stations (see listing below) provide high-performance, KVM-over-IP access in self-contained, low-maintenance appliances.
ATEN's KVM over IP console stations enable users to remotely access, monitor and control the computer connected to CN9950 with impenetrable security against virus threats. They also support various data encryption methods, ensuring impervious data protection.
Package Content
1x CN9950 4K DisplayPort KVM over IP Gateway
1x DisplayPort Cable
1x USB Cable (USB-A to USB-B)
1x USB Cable (USB-A to Mini-USB)
1x Power Adapter
1x Mounting Kit
4x Footpads
1x User Instructions