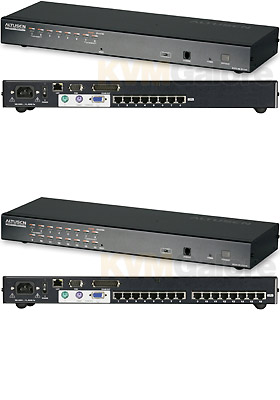 8- and 16-port, 1-user CAT-5 IP KVM switches
expandable to control up to 256 PC, Mac, Sun computers and terminal-based serial devices
---
ATEN's KH-Series CAT-5 IP KVM Switches allow one user to control 8 or 16 computers - PC and/or Sun, as well as serial controlled 'terminal' ports. That user can be local or remote, using an integrated, shared IP connection.
Through daisy chain architecture, additional non-IP enabled switches can be used to expand the number of computers controlled. Custom ASIC (patent pending) auto senses the switch positioning the daisy chain.
CAT-5 cabling to the computers reduces cable bulk and allows the computers to be located up to 130 feet from the switch for convenient placement.
KH-Series CAT-5 IP KVM Switches are exceptionally affordable IP-enabled CAT-5 equipped switches with high video quality, excellent security, and the features most in demand.
KH1508Ai: 8 ports
KH1508AiUkit: 8 ports; 8 USB-VGA dongles
KH1516Ai: 16 ports
KH1516AiUKit: 16ports; 16 USB-VGA dongles