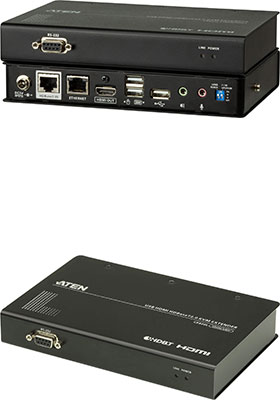 Buy this item and earn 749

Club

Points.
USB, HDMI HDBaseT™ 2.0 KVM extender
4K @ 328 feet
---
• Extends HDMI video, audio, USB, RS-232, and Ethernet signals via a single CAT-6/6a/2L-2910 CAT-6 cable
• HDMI (3D, Deep Color, 1080p, 4K); HDCP 2.2 Compliant
• EDID Buffer for smooth power-up and the highest quality display
• HDBaseT™ Standard mode up to 4K @ 328 feet (CAT-6/6a/2L-2910)
• HDBaseT™ Long-Reach mode up to 1080p @ 492 feet
• Supports individual 2-channel stereo audio and USB 2.0 full speed ports
ATEN CE820 USB HDMI HDBaseT™ 2.0 KVM extender integrates the latest HDBaseT™ 2.0 technologies to deliver 4K video, stereo audio, USB, Ethernet, and RS-232 signals up to 328 feet using a single CAT-6/2L-2910 CAT-6 cable.
HDBaseT™ 2.0 guarantees the most reliable transmission on the market as well as enables the long-reach capability that extends full HD 1080p signals up to 492 feet.
CE820 HDBaseT 2.0 KVM extender can extend HDMI, serial, Ethernet, and USB 2.0 signals up to 328 feet using a single CAT-5e/6/6a or ATEN 2L-2910 cable and HDBaseT technology. The HDBaseT 2.0 KVM extender is equipped with USB connectors which allow you to extend signal transmission of any USB device. The USB functionality provides support for peripheral sharing, touch panel control and file transfers.
CE820 ensures superior video quality with 4096x2160 resolutions so that you get the most out of your HDMI-enabled displays.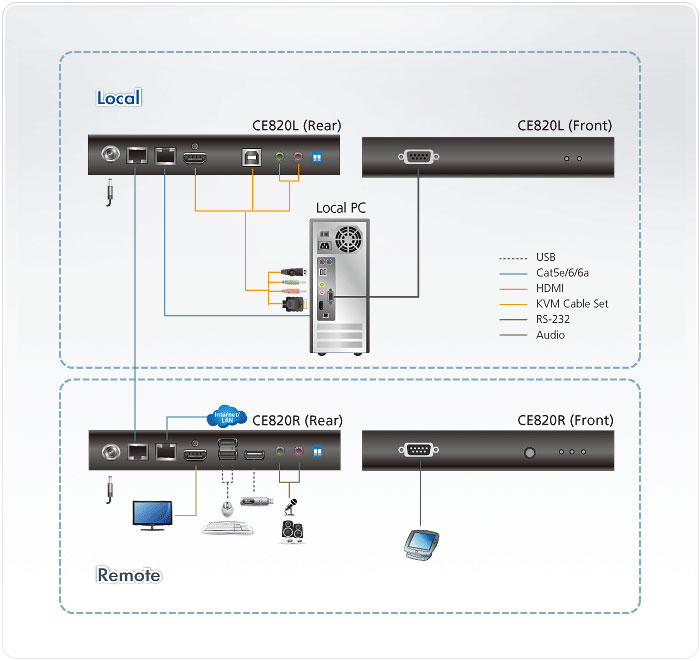 CE820 supports the HDBaseT™ 2.0 technology with which you can extend the KVM installation up to 492 feet @ 1080p and preserve high quality video by enhancing bit error detection and correction to resist signal interference.
CE820 allows access to a computer system from a remote console (USB keyboard, monitor, and mouse). It is perfect for use in any type of installation where you need to place the console where it is conveniently accessible, but you want the system equipment to reside in a safe location - away from the dust and dirt of the factory floor, or the harsh environmental
influence of a construction site, for example. This allows users to deploy system equipment over large distances.
CE820 is useful for control and security purposes, where you can have the system in a secure area with the console in the most convenient location for user access. This is ideal for managing highly confidential data systems.
With an easy cable installation supporting various signals, the CE820 is ideal for applications where convenient remote access is required - such as transportation control centers, medical facilities, industrial warehouses, and extended workstations.
Setup is as easy as can be - simply connect the computer; run the CAT-5e/6/6a or ATEN 2L-2910 cable up to 328 feet to the remote unit of the CE820 and then plug the remote console into the remote unit of CE820.
Features and Benefits
• Supports HDBaseT™ 2.0 technology
• Extends video, audio, USB, RS-232, and Ethernet signals via a single CAT-6/6a/2L-2910 CAT-6 cable
• Enhanced bit error detection and correction to resist signal interference during high-quality video transmissions
• Status detection and LED indication for HDBaseT™ signal transmission on remote unit
• EDID Buffer for smooth power-up and the highest quality display
• Long distance with superior video quality
• HDBaseT™ Standard mode up to 4K @ 328 feet (CAT-6 / 6a / 2L-2910)
• HDBaseT™ Long-Reach mode up to 1080p @ 492 feet
• Long Reach mode switch - switches between HDBaseT™ Standard and Long Reach modes in a snap
• USB 2.0 full speed ports - ensures fast transmission speeds for peripherals
• HDCP 2.2 compliant
• Supports individual 2-channel stereo audio for high-quality audio applications
• Supports PC wakeup function via single pushbutton
• Built-in 8KV / 15KV ESD protection (Contact voltage 8KV; Air voltage 15KV)
• Easy installation rack-mounting kit
• Firmware upgradeable
Package Contents
1x CE820L USB HDMI HDBaseT 2.0 KVM extender (Local Unit)
1x CE820R USB HDMI HDBaseT 2.0 KVM extender (Remote Unit)
1x HDMI KVM cable set (HDMI, USB, Audio; 1.8 m / 6 feet)
2x Mounting kits
2x Power adapters
1x User instructions