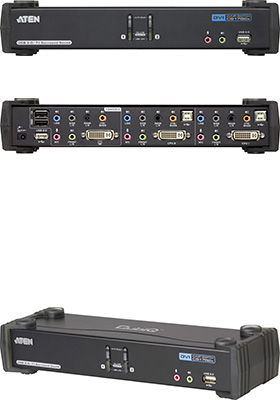 Buy this item and earn 247

Club

Points.
2-port dual-link DVI KVMP switch
with USB 2.0 and 7.1 audio support
---
ATEN's CS1782A Cubiq dual link DVI KVMP switch sets a new standard in KVMP functionality by adding three major innovations.
Video DynaSync reads and remembers your monitor's optimal display settings (E-DDC), thereby eliminating display problems when simultaneously booting or switching between computers. With support for resolutions up to 2560x1600 (DVI Dual Link) you can enjoy the full capabilities of your wide screen monitor.
7.1 sound support provides a fully immersed audio experience for listening pleasure, gaming, or audio editing.
Good news for gamers , CS1782A supports high end gaming keyboards with LCD panels, programmable keys, and special key combinations.
In keeping with the proliferation of high speed devices, CS1782A provides two USB 2.0 peripheral ports for sharing USB devices between your computers. A powered USB hub may be attached for added expansion.
Features and Benefits
• Superior video quality: 2560 x 1600 @ 60Hz (Dual Link); 1920 x 1200 @ 60Hz (Single Link)
• Built-in High-Speed 2-port USB 2.0 Hub
• Supports high end gaming keyboards and mice
• Independent (Asynchronous) switching of KVM and peripheral USB/Audio ports
• Support high quality 7.1 channel surround sound system
• Support widescreen resolutions
• Sources selection via front panel pushbuttons, hotkeys, and Mouse
• Multiplatform support: Windows, Linux, MAc, and Sun
• Video DynaSync - Exclusive technology that eliminate boot-up display problem and optimizes resolution when switch between ports
• Support gaming/multimedia keyboards
• Sun/Mac keyboard support and emulation
• Auto Scan Mode for monitoring all computers
• Firmware upgradeable
Package Content
1x CS1782A USB DVI Dual Link KVMP Switch
2x DVI-D/USB KVM Cables
2x 7.1 Channel Surround Sound Cables
1x Power Adapter
1x User Manual
1x Quick Start Guide