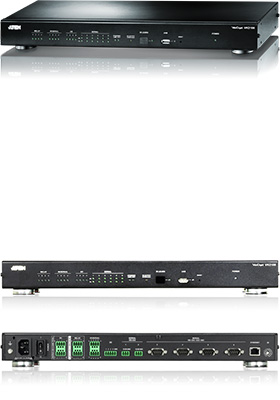 ATEN control system
control boxes that - along with software configurator, 10,000+ device-library and a mobile app - provide centralized, wireless control of A/V equipment, lighting, air conditioning, motion sensors, power switches and much more
---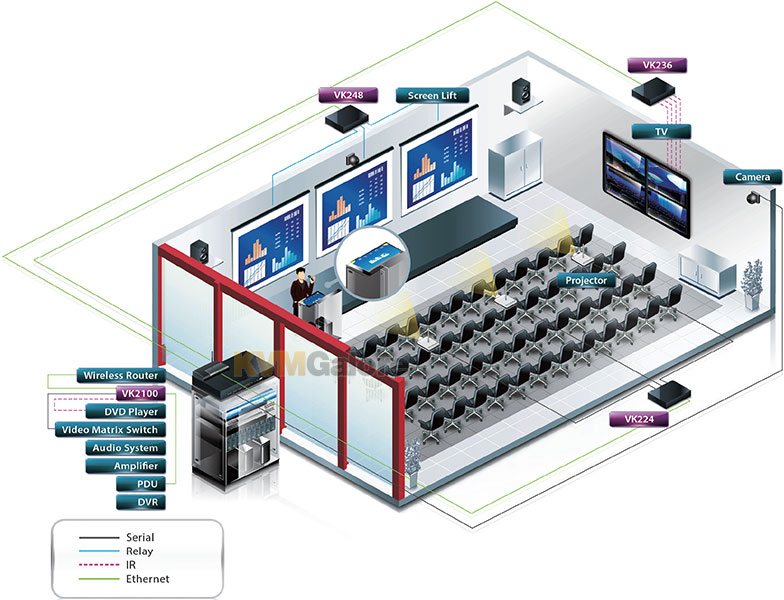 ATEN control system is an Ethernet-based management system that incorporates ATEN controllers (ATEN control box and/or ATEN control pad) and control interfaces (ATEN keypads and ATEN touch panel) for connection, configuration, and operation of all hardware devices in a room or large facility to provide convenient control effortlessly via a mobile device or an ATEN touch panel.
After connecting the hardware, the ATEN configurator (VK6000) provides simple setup of the devices with easy step-by-step configuration. The ATEN touch panel and ATEN control system app, for iOS, Android or Windows mobile devices, then empowers you with the mobility to control all hardware devices remotely, whenever and however you like.
ATEN control box/control pad can be easily deployed into an existing installation and integrate seamlessly with ATEN VanCryst pro-AV products and nearly any other hardware devices found in a room, including AV equipment, lighting, conference systems, air conditioning, motion sensors, power switches and many more.
The controller serves as the central platform where hardware devices are connected — to be monitored, managed, and controlled directly via a tailor-made GUI — a Viewer — from any iOS, Android, or Windows mobile device or an ATEN touch panel.
The control system project and its control interface is configured using an intuitive program — the ATEN configurator (VK6000). The ATEN configurator walks you through configuring the hardware, designing the control interface (Viewer), and uploading this configuration to the controller.
Through an Ethernet connection, the ATEN control system app enables you to edit and download Viewers from the controller via a point-n-tap user interface. The use of each Viewer is protected with password authentication to ensure secure access.
The ATEN control system is the perfect solution for any meeting rooms, conferences, boardrooms, classrooms, and any other room setting that requires a centralized, mobile control of a variety of hardware devices through streamlined Ethernet-based management system with optimum efficiency and performance.
ATEN Control System Consists Of:
• Controllers, in the form of control boxes and control pads, serve as a central platform where all hardware devices connect in order to be controlled
• Expansion Boxes provide additional serial, IR, and relay ports to flexibly increase the number or type of connections to hardware devices in your installation
• Control Interfaces: Customized interfaces for controlling your hardware devices via touch panels and mobile devices with the ATEN control system app as well as wall-mount faceplates
• Software: Features configurator software and additional tools that enable easy set up of control settings and GUIs for use on any ATEN control system interface