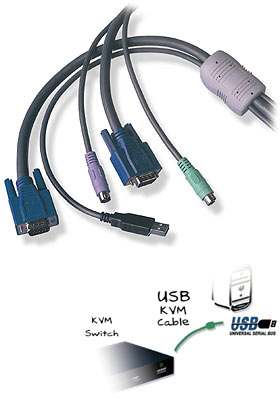 Buy this item and earn 60

Club

Points.
CCUSB: PS/2 (& video) to USB (& video) convertor cable
Some computers (such as Macs, Suns and many laptops) have USB keyboard and mouse connections rather than the traditional round style (PS/2) connectors found on most desktop PCs and KVM switches. The USB interface cable enables these computers to be conveniently connected to standard inexpensive PS/2 style KVM switches.
The Interface Cable delivers high functionality at low cost, enabling extremely cost effective multi platform KVM switching by coupling a standard PS/2 style KVM switch to laptops, Macs, Suns and other computers without PS/2 ports. The cable therefore enables all Adder PS/2 style KVM switches to become multi platform solutions.
Miniature interfacing circuitry moulded within the cable performs the required PS/2 to USB protocol conversions. The circuitry constantly signals to the computer in the same way that a keyboard and mouse would, ensuring maximum reliability. This signalling process continues even if the KVM switch is powered off. Advanced support for extra keyboard keys and languages is provided by downloadable drivers. The product is flash upgradeable to ensure maximum compatibility with future devices.
Features and Benefits
• Fully moulded robust construction with colour coded connectors
• May be used with any quality PS/2 style switches
• Intelligent communication ensures a high level of integration with MP switches
• 'Keep alive' circuitry provides increased system reliability
• USB phantom key suppression for maximum reliability
• Downloadable drivers for different keyboard layouts and future upgrades