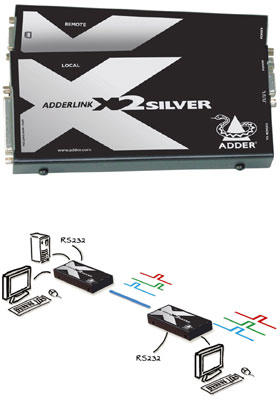 Buy this item and earn 669

Club

Points.
X2-DA-SILVER: Convenient local and extended PS/2-VGA KVM and serial control of a PC or a KVM switch
over 1000 feet of UTP cable
---
AdderLink X2-Silver extends very high quality video, keyboard, mouse and transparent RS232 up to 1000 feet over Category 5 or higher cable.
AdderLink X2-Silver Dual-Access Extender also offers computer access through a local console at the transmitter end, allowing dual access (local and extended) for local setup and maintenance as well as remote access.
A major improvement offered by the AdderLink X2-Silver is the increased distance over which video can be transmitted and the very high resolutions that can be achieved at these distances. Industry leading resolutions of 1600 x 1200 are achievable at 650 feet and 1280x1024 at 1000 feet.
Integral electronic DeSkew is also provided to compensate for any color skew effects that may be introduced by long CAT-x cables, achieving crystal clear video, even at longer distances. For maximum convenience all video adjustments may be simply made using the keyboard.
DDC circuits are also fitted to enable the computer to query the monitor so that the video card can be optimally configured. Without this circuitry, some well known high performance video cards cannot be used at high resolutions. AdderLink X2-Silver extender also features transparent serial ports that enable a wide range of serial devices to be connected at baud rates up to 57,600.
Features and Benefits
• Extends KVM and transparent RS232 across a single CATx cable
• Extra fine video quality at resolutions up to 1600 x 1200 at 650 feet and 1280 x 1024 at 1000 feet
• Fully transparent RS232 interface enables a wide range of serial devices to be connected
• Integrated state of the art 300MHz DeSkew circuit (up to 62ns DeSkew with 2ns granularity)
• Use stand alone or rackmount 16 modules across 2U
• Advanced spike suppression circuits for reliability in noisy™ applications
• Flash upgradeability enables future enhancements
• Supports DDC signalling to ensure optimal video card setup
Package contents
• Local (computer-end) unit
• Remote (KVM console-end) unit
• 6-feet long computer interface cable
• Computer serial interface cable
• IEC style power supply and power cord
• Safety and installation leaflet
• CD manual, stick on rubber feet.
Note: the X-Series rack panels are not included and need to be purchased separately as required.