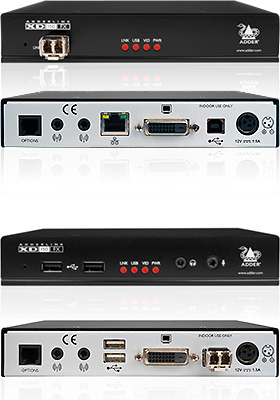 Buy this item and earn 1,571

Club

Points.
XD150FX-SM: Dual-link DVI, USB, RS232 and audio KVM extender
over a single duplex fiber cable up to 2.48 miles
---
Highlights
• Resolutions up to 2560x2048 @ 60Hz
• 2.48 mile extension distance for single-mode fiber
• USB 2.0 Hi-speed for mass storage devices
• USB 2.0 (Low, Full, High speed) for keyboard, mouse, tablet and touch screen
• Bidirectional analog audio (Line in/out with microphone & headphone support)
• RS232 with RTS/CTS flow control
ADDERLink XD150FX is a high performance KVM (keyboard, video, mouse) extender that enables you to locate your critical computing hardware in a secure and temperature controlled environment away from the user work station while maintaining the original user desktop experience.
Using fiber optic links, these compact modules allow you to transfer the multiple connections listed below up to 2.48 miles from a host computer (see transmission distances on the SPECS tab).
The high grade screening employed within the metal cased enclosures combined with the immunity from interference of the fiber optic links make AdderLink XD150FX modules highly suitable for use in 'noisy' industrial environments.
AdderLink XD150FX extender modules provide support for:
• High quality single- or dual-link DVI digital video (up to 2560x2048 @ 60Hz)
• USB keyboard and mouse plus two other USB 2.0 devices
• An RS232 serial device at speeds up to 115200 baud
• Mono microphone
• Stereo speakers
• Line-level audio in/out connections
AdderLink XD150FX extender modules are totally transparent in operation, leaving you free to use your computer as though you're still sitting next to it. The transmitter and receiver modules are contained within slimline metal casings that measure just 6.65 x 4.72 x 1.2 in.
Installation involves linking AdderLink XD150FX Transmitter module to various ports on the host computer, while AdderLink XD150FX Receiver module is attached to your peripherals. Each pair of AdderLink XD150FX modules are supplied together with SFP fiber optic modules. The fiber optic cable used must match the SFP type and also be of a suitable type for the distance being covered.
Perfect digital video, real time control
The video extension system is visually lossless with no visible artefacts or latency allowing you to be certain of quality and control while seperated from your computer.
Single duplex LC fiber cable
Video, USB 2.0 and audio all pass along a single duplex LC fiber cable.
Flexible extension distances up to 2.48 miles
The unit is fitted with SFP cages allowing different types of fiber to be utilized. Distance is dependent on the cable type and fiber module (see transmission distances on the SPECS tab).
USB 2.0
Enables connection of any USB human interface device from mice and keyboards through to touch screens, graphics tablets, jog shuttles, joysticks and 3D explorers. Mass storage devices and isochronous devices such as webcams and headsets can also be used.
EDID management
The extender has an intelligent EDID management to allow the true characteristics of the monitor to be passed back to the computer.
REST API
A REST (Representational State Transfer) API is available with all functionality to which authorized 3rd party control systems can interface.
Web interface control
AdderLink XD150FX can be controlled and monitored via a web interface. Temperature and status are viewable and each function can be individually controlled. Web interface security is by HTTP digest authentication (RFC 2617) with username and password as requested information.
Plug and Play
AdderLink XD150FX extender is delivered in a zero config state so you can plug in the units and start working with them straight away. There is no need for drivers or software to be installed.
Bidirectional CD-quality analog audio
The unit delivers CD-quality stereo audio (24-bit sampling at 96kHz) is available to transfer audio between local and remote. A microphone and headphones are also supported.
Package Includes
1x AdderLink XD150FX transmitter module
1x AdderLink XD150FX receiver module
2x SFP modules with LC connectors (multi-mode)
2x Power adapters with locking connectors and US power cords
1x Combined dual-link DVI-D video and USB cable, 2m
2x audio cables, 3m (3.5mm stereo jacks)
1x Quick setup guide
8x self-adhesive rubber feet
1x Safety document