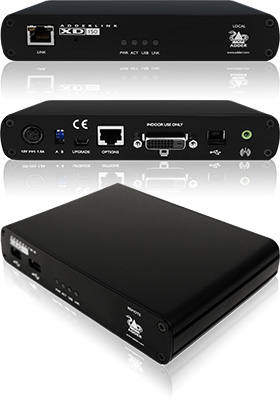 Buy this item and earn 986

Club

Points.
XD150: Single-link DVI, transparent USB 2.0, audio and RS232 extender
over a single CATx cable up to 490 feet (150m)
---
Highlights
• 490 feet (150m) extension distance for a single 1920x1080 screen
• 328 feet (100m) extension distance for a single 1920x1200 screen
• Transparent USB 2.0 hi-speed link for keyboard, mouse, tablets, touch screens, mass storage and other common USB devices
AdderLink XD150 is a high performance KVM extender that enables you to locate your critical computing hardware in a secure and temperature controlled environment away from the user work station while maintaining the original user desktop experience.
These compact modules allow you to transfer the following connections up to 490 feet (150m) from your computer via a single link cable:
• High quality single link DVI digital video
• USB keyboard and mouse plus two other USB 2.0 devices
• An RS232 serial device at speeds up to 115200 baud
• Stereo speakers
AdderLink XD150 extenders provide two operational modes so that you can choose your priority: To support a higher resolution display (up to 1920 x 1200 @ 60Hz) or to cover a greater distance (up to 490 feet). A simple switch setting on the local module determines the required mode. When the high rate mode is enabled, XD150 system will continually monitor the data link to ensure that image quality is being maintained. If the data link is not sufficient, the local module will automatically fall back to long reach mode.
Due to the large volumes of data that must be transferred between the local and remote modules, every AdderLink XD150 installation is highly dependent upon good quality CATx cable links. Video performance is particularly reliant on high speed communication channels. For this reason, AdderLink XD150 units test the link quality to determine which of two transfer modes can be supported: High rate or Long reach.
The main factors that affect link quality are:
• The length and type of CATx cable used,
• The number, length and type of intermediate patch connections,
• The quality of the cable terminations.
AdderLink XD150local and remote modules are contained within slimline metal casings that measure just 169 x 116 x 31mm.
Perfect digital video, real time control
The video extension system is uncompressed, where by every pixel of every frame are sent without loss and in real-time.
Single CATx extension cable
Video, USB 2.0, audio and RS232 signals all pass along a single CATx extension cable.
Up to 490 feet (150 meter) extension distance
Distance is dependent on the monitor resolution, cable type and number of connection breaks for patch panels and wall plates. See the table on the datasheet for details.
Transparent USB 2.0
The transparent USB 2.0 link supports most common USB devices such as mice, keyboards, touch screens, graphic tablets, jog shuttles, joysticks and mass storage devices. Isochronous devices such as web cams and headsets can also be used.
Plug and Play
Installation is straightforward and there is no need for extra drivers or software to be installed.
Locking power connectors
Locking 3 Pin DC jack with 2 power adaptors included.
CD quality analog audio
CD audio quality (stereo channel 16 bit sampled at 44.1kHz) is available to transfer stereo audio from local to remote for Line Out.
Intelligent operation
The extender has an intelligent EDID management to allow the true characteristics of the monitor to be passed back to the computer. A KVM switch mode is also provided for improved compatibility with KVM equipment. The whole system is flash upgradeable from the computer end for future compatibility.
RS232
RS232 can be passed between the units to a maximum baud rate 115K2 via the options port. Adder's RC4 remote key switch is also supported.
19" rack mounting kit
An easy-access rack mount kit is available for neat mounting of two units in 1U of rack space.
Intelligent USB hub
The remote unit has an in-built 4-port USB hub to enable several USB devices to be connected.
Package Includes
1x AdderLink XD150 local module
1x AdderLink XD150 remote module
2 x Power adapters with locking connectors and country-specific power cords
1x USB cable 2m (type A to B)
1x Video cable DVI-D to DVI-D
8x Self-adhesive rubber feet
1x Safety document