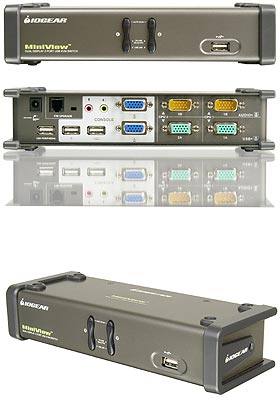 Buy this item and earn 212

Club

Points.
GCS1742: 2-port dual-view USB KVM+audio switch
with USB peripheral sharing
---
MiniView Dual Display USB KVMP switch brings dual head video functionality to IOGEAR's USB KVM switch technology. Now two dual-display computers can be accessed and controlled from a single console that consists of a USB keyboard, USB mouse, and two VGA, SVGA, or Multisync monitors.
In addition, the MiniView Dual Display allows the computers to share USB peripherals connected to the USB peripheral ports, such as printers, scanners, portable hard drives, etc.
Recognizing the importance of sound, this switch is also audio-enabled. A single microphone can provide audio input to each of the computers, and you can enjoy the audio output of each computer on a single set of speakers.
Features and Benefits
• One dual monitor console controls two dual monitor computers
• Additional VGA display channel provided for dual display of each computer
• Additional USB peripheral ports for the connected computers to share USB devices, such as printers, scanners, and portable hard drives, etc.
• Audio jacks provided for speaker and microphone sharing
• Independent switching of KVM, USB, and audio
• Easy to install - no software required - connecting cables is all it takes
• Easy to operate - computer selection via push button switches or hotkeys
• Auto Scan function to monitor computer operation
• Hotkey selection for OS and keyboard language
• LED display for easy status monitoring
• Caps Lock, Num Lock, and Scroll Lock, states are saved and restored when switching
• Hot pluggable; add or remove computers for easy maintenance
• Firmware upgradable
• Keyboard and mouse emulation for error free booting
• Supports multimedia USB keyboards
• Supports Mac & Sun keyboards
• Superior video quality - up to 2048 x 1536; DDC2B
• Efficient, ergonomic design - logical connector layout
Package Content
1x MiniView Dual Display USB KVM switch, 2-ports
1x Power adapter
2x Custom audio/video cables (6-feet long)
2x Custom USB/video cables (6-feet long)
1x Firmware upgrade cable
1x User Manual
1x Quick Start Guide