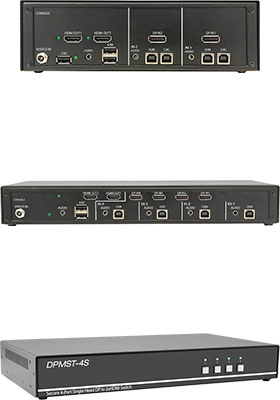 2- and 4-port secure DisplayPort KVM switches with MST, audio and optional CAC support
4K single-head DisplayPort computers to 2x 4K HDMI extended-desktop screens; NIAP 3.0 approved
---
DPMST secure DisplayPort KVM switches include MST (multi-stream transport) technology which reduces the amount of cables needed to connect to a PC. This allows two separate HDMI Ultra-HD (4K @ 30Hz) video output signals to be generated from just a single DisplayPort (4K @ 60Hz) input connection.
DPMST are secure DisplayPort 1.2a compliant devices. DPMST can control 2 or 4 computers with a single DisplayPort connection each, while providing the ability to view their video in an extended-desktop on two HDMI monitors.
The secure DPMST convert a single DisplayPort 1.2 input signal to two separate HDMI output connections through advanced MST technology. This allows a user to extend their desktop display to two screens and achieve resolutions of up to 4K (3840x2160 @ 30 Hz) on each connected monitor from any connected single-port DisplayPort computer.
DPMST-2S: 2 ports
DPMST-2S-P: 2 ports with CAC support
DPMST-4S: 4 ports
DPMST-4S-P: 4 ports with CAC support