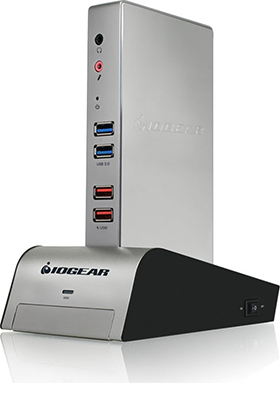 Turn your laptop into a workstation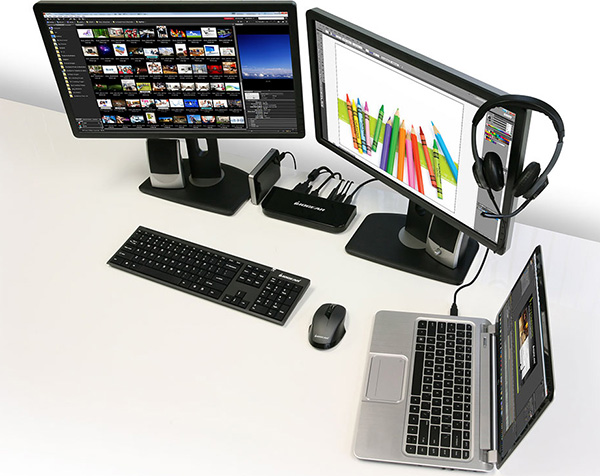 Modern day laptops like the 2015 MacBook and Chromebook Pixel 2 have minimized the number of ports in the quest to be as thin and lightweight as possible. With IOGEAR's docking stations you can combine the portability of a laptop with all the functionalities of a full-featured workstation.
Now you can easily add a full-sized keyboard and mouse, external hard drives, printers, webcams, etc. to turn your laptop into a complete workstation. A single connection replaces the need to set up your peripherals cable-by-cable which makes setup completely hassle-free and multitasking almost effortless.
met(AL) Vault Dock: Built-in HDD storage backup drive enclosure; 4x USB 3.0; 2x USB charging ports; 2x USB 2.0; 1x HDMI ; 1x DVI-I
Thunderbolt 2 Docking Station: 3x USB 3.0; 1x 5V 1.5A fast USB charging port; 2x optical 3.5mm audio (in and out); 1x Thunderbolt in; 1x Thunderbolt out; 1x HDMI out; 1x Gigabit Ethernet LAN
Thunderbolt 2 KVM / Docking Station: 3x USB 3.0; 2x USB 2.0; 2x optical 3.5mm audio (in and out); 2x Thunderbolt in; 1x Thunderbolt out; 1x HDMI out; 1x Gigabit Ethernet LAN; 1x SATA / eSATA eSATA port
Thunderbolt 3 Quantum Docking Station: 2xThunderbolt 3; 1x USB-C; 2x USB 3.1 Type-A; 1x DisplayPort; 2x 3.5mm audio (in and out); 1x Gigabit Ethernet LAN
USB 3.0 Universal Docking Station w/ Power Adapter: 1x USB 3.0 in; 1x USB 3.0 fast-charging out; 1x USB 3.0 out; 4x USB 2.0 out; 2x 3.5mm audio (in and out); 1x HDMI out; 1x DVI-I out; 1x Gigabit Ethernet LAN
USB-C Docking Station: 2x USB Type-C (upstream/downstream); 1x USB 3.0 fast-charging ; 2x USB 3.0 out; 2x 3.5mm audio (in and out); 1x HDMI out; 1x DisplayPort out; 1x Gigabit Ethernet LAN
USB-C Dual DisplayPort Portable Dock: 1x USB 3.1 Type-C in; 1x USB 3.0 Type-A out; 2x DisplayPort out