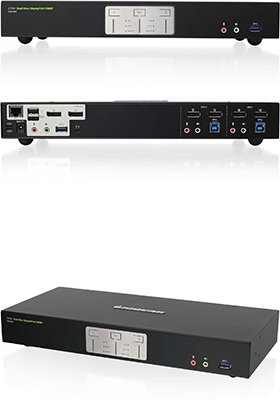 Buy this item and earn 489

Club

Points.
GCS1942: 4K Dual-view DisplayPort KVMP switch
with USB 3.0 hub, mouse and hot-key switching, audio, Power On Detection, and MST support

• Maximize your high-end multi-monitor workstation with superior video resolution
• Share dual True 4K Cinema DisplayPort monitors (4096x2160 @ 60Hz)
• Operate two DisplayPort computers with 1 keyboard, mouse, and 2 monitors
• Add another GCS1942 to expand up to four 4K monitors
• DisplayPort 1.2 compliant, HDCP compliant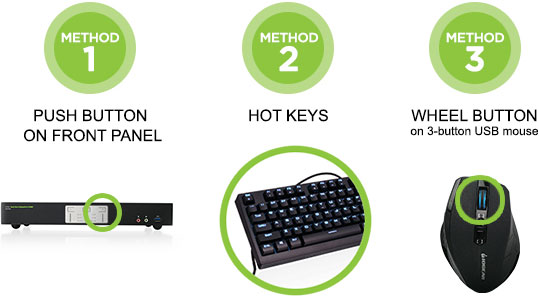 Maximize your high-end dual DisplayPort workstations by connecting them to this 2-port 4K dual-view DisplayPort KVMP. Experience 4K Cinema resolutions along with rich bass and 7.1 surround sound while switching between both computers and sharing two USB 3.0 peripherals with the push of a button.
A Dual 4K Cinema Experience
Join two 4K Cinema DisplayPort monitors to your premium desktop or laptop to experience superior screen, image, and video quality. This dual-view DisplayPort KVMP delivers a 4K resolution standard of 4096x2160 at a frame rate of 60Hz.
Designed for professional film and video production industries, the 2-port KVMP supports environments requiring cinematic graphics resolution. Superior quality is also ideal for applications in motion graphic design, animation, engineering, architecture, and media design.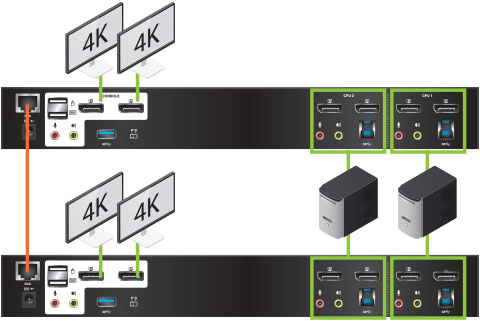 Convenient Switching Methods
Switch and access two DisplayPort computers from the push-button front panel or hotkey combination on your keyboard. Utilize the latest in mouse port-switching functionality to change ports by simply clicking the wheel button on your 3-button USB mouse.
Expand to Utilize Up to Four 4K Monitors
Tackle large projects and double your desktop viewing space by adding a second 2-port KVMP (GCS1942). Expand your workstations to accommodate up to four 4K Cinema DisplayPort monitors.
Smart Connectivity
Additional smart connectivity features turn your workstation into a convenient, easy-to-use powerhouse. Power on Detection ensures automatic connection to the next powered-on computer. With Multi Stream Transport (MST) support, double your desktop viewing space by daisy chaining each monitor to another monitor, accommodating up to four DisplayPort monitors*. The built-in USB 3.0 ports provide connectivity speeds up to 5Gbps and compatibility with legacy USB 2.0 and 1.1 devices.

Features and Benefits
• Maximize your high-end multi-monitor workstation with superior video resolution
• Share dual 4K Cinema DisplayPort monitors (4096x2160 @ 60Hz)
• Operate two DisplayPort computers with one keyboard/mouse, and two monitors
• Add another GCS1942 to expand up to four 4K monitors
• DisplayPort 1.2 compliant, HDCP compliant
• Allows independent switching of the KVM, USB, and audio devices
• Control/share USB 3.0 peripherals between two computers; save money on duplicate devices
• Work on computer "A" without interrupting USB peripheral connectivity on computer "B"
• SuperSpeed 5Gbps transfer rate
• MST (Multi-Stream Transport) support1
• DP++ supports HDMI and DVI output2
• Computer selection via front panel pushbuttons, hotkeys, or mouse3
• Supports 7.1 HD audio through DisplayPort4
• Full bass response for high quality 2.1 channel audio
• Mouse emulation or bypass feature supports most mouse drivers and multifunction mice
• Multi-platform support – Windows®7 and later; Mac OS®; Linux®
• Multilingual keyboard mapping supports English, French, and German keyboards
• Mac® keyboard support and emulation5
• RS-232 Commands6
• Auto-scan mode to monitor all computers
• Power on detection
• Hot pluggable
• Firmware upgradable
• Includes all KVM and audio cables
Package Includes
1x 2-port 4K dual-vView DisplayPort KVMP switch with USB 3.0 hub and audio
4x DisplayPort cables
2x USB 3.0 cables
2x Audio cable Set
1x Power adapter
1x Manual
1 MST requires two monitors capable of DisplayPort 1.2 daisychaining, or use of an external DisplayPort MST Hub. PC Source must be DisplayPort 1.2 compliant. A DisplayPort 1.1a monitor can be the last monitor in a DP1.2 chain.
2 Dual-Mode DisplayPort (DP++) requires active HDMI and DVI adapters for most display setups.
3 Mouse port switching supported alongside mouse emulation mode using a USB 3-button mouse wheel.
4 HD audio through DisplayPort cannot be switched independently.
5 PC keyboard combinations emulate Mac® keyboards.
6 DB9 to RJ-45 cable not included.
* Resolution adjusted as more monitors are daisy-chained