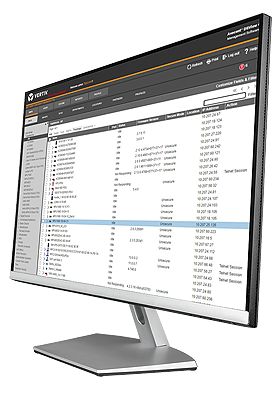 DSView 4.5
DSView 4.5 management software for remote IP control and management of MergePoint Unity and DS-series KVM over IP switches, serial, IPMI, and PDU appliances
Read more below...

$0.99
MSRP: $1.00 -
You save $0.01

$0.99
MSRP: $1.00 -
You save $0.01
One solution for securely managing every device in your data center
Business Challenges
The collaborative mission of IT and data center operations is to support business initiatives. IT add data center operations face overhead and productivity challenges, including:
• Geo-dispersed data centers or branch infrastructure, requiring professional "hands-on"
• Heterogeneously equipped or merger-acquired data centers — inconsistently managed via a patch-work of discrete and/or siloed vendor products
• Lights out data centers, requiring "hands-on" management within physical isolation.
Solution Overview
Vertiv™ Avocent® DSView™ management software helps your IT and data center operations teams overcome these challenges by providing secure sessions to remotely locate data center infrastructure controls. Through usage of innovative Vertiv Avocent appliances, off-network controls are network enabled for secured web-browser sessions via DSView:
• Keyboard/video/mouse (KVM) controls of a standard server
• Serial port (Telnet, Putty or proprietary) controls of a server, network, SAN or Rack PDU
• Proprietary connection to service processor
• MIB-based controls to infrastructure like Intelligent Rack PDU
As a stand-alone solution, DSView delivers secured web-browser enabled sessions of on-network infrastructure controls. As an IT integrated solution, DSView delivers secured web-browser enabled sessions to Virtual Machines (VMware, MS Hyper V and Citrix Xen).
As an industry proven secure, remote infrastructure management control solution, DSView has evolved a valued collection of product features, such as:
• Secured, remote management control of data center infrastructure via KVM, serial and service processor for:
- "Hands-on" management and operational state monitoring (device state, power consumption, temperature) in real-time and as a polled device threshold event
- Control at the physical firmware level for bare metal OS provisioning
- Control at the physical host OS level for application sessions
- Control at the logical VM instance level for virtualized OS and application sessions
• Standards based encryption HTTPS/TLS/AES/SSH; out-of-box integration to enterprise authentication and authorization; session and event logging/reporting
• Threshold based event notification by site definition required on device parameters
• Logical data access bridges between virtual media data sources (software installation, off-site data, etc.) and remotely managed data center infrastructure
• Hub and spoke solution architecture for disaster resistance, fail-over management and scalable solution deployment across complex data center topology
• Supports analog and cellular modem based out of band (OOB) access to the data center infrastructure in the event of primary network failure
Features
• Unified, secure "hands-on" control of remote infrastructure
• Location independence activity:
- Triage, diagnostics and root-cause-analysis
- Disaster recovery
- SLA Management
- Application usage
• Control blade and virtual servers and service processors
• Native host KVM web interface
• HTML5 KVM and Serial viewers
• Telnet/Putty serial interfaces
• Session log, report and archive
• Data Center Zone definitions
• Schedule and on-demand firmware management
• Logically bridges virtual media to remote infrastructure
• Shares RPM data center model
• Hub-and-spoke architecture
• Out of box authentication
• Web secure 2048 SSL certificate
• Two factor authentication
Benefits
• Flexibly manage operations from any location
• Single point of data center infrastructure management
• Activity logging for full operational accountability
• Zone granularity access control
• Consistent appliance firmware management
• Flexibly restore and reimage devices from virtual media
• Architected business continuity
• Secured via site authentication and web certificates