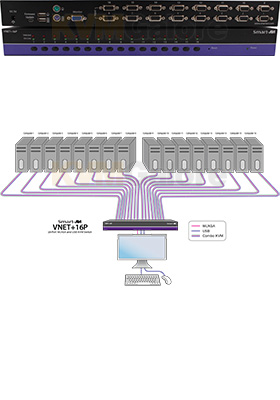 Buy this item and earn 524

Club

Points.
16-port cross-platform WUXGA KVM switch
with USB and PS/2 keyboard/mouse support, and OSD
---
For the wide variety of venues where smooth and user-friendly KVM (Keyboard, Video and Mouse) control are essential, VNet+16P KVM switch by Smart-AVI provides top-quality KVM functionality.
Many KVM devices use multiple cables and ports for each connected computer, but VNet+16P enables the use of combination KVM cables. These handy cables bundle WUXGA video with USB and PS/2 ports together to eliminate the mess and confusion caused by running multiple cables from each computer connected to a KVM switch.
Switching control of the 16 connected computers is easy thanks to a variety of switching options. Users can switch using the front-panel switches on the device, using supported hot key functionality, or using the OSD (On Screen Display). All devices connected to VNet+16P are hot pluggable, enabling users to add or remove devices without needing to restart the switch.
The switch supports full emulation for a keyboard and mouse via USB 1.0/1.1 or PS/2 ports with high-performance mouse tracking and synchronization. Secure access through certificate authentication and data encryption is supported. There's no software required to utilize the switch, and there is a mini USB port for firmware updates.
Real-World Applications
VNet+16P has a broad range of applications, but the main function is to centralize the access of as many as 16 computers into a single workstation. VNet+16P is particularly well suited to medical, industrial, studio and defense applications, where it is not practical or safe to have multiple CPUs next to the workstation. The combination KVM cable used by the switch further enhances the ability of the end user to better consolidate and organize their workstation in these and other environments:
• Server Collocation
• Hospitals
• Academic Campuses
• Airports
• Dealer Rooms
• Control Rooms
• Audio/Visual Presentations
• Shopping Centers
• Hotels/Resorts
• Production Studios
Features and Benefits
• Supports Mac, PC, Linux and Sun
• Supports high resolution 1920x1200 60Hz WUXGA
• KVM control of 16 computers, rack mountable
• Uses combo KVM cable for consolidated connectivity
• Supports USB 1.0/1.1 and PS/2 keyboard and mouse with full emulation
• Front panel tactile switches with LED status indicator
• Includes OSD (On Screen Display)
• Supports auto-scan mode for discovery
• Easy control and access
Package Includes
• VNet+16P
• Power Supply (PS5VD2A)