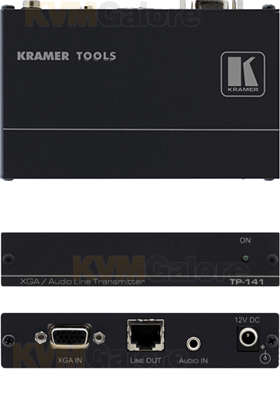 Buy this item and earn 316

Club

Points.
Extended-range computer graphics video and stereo audio over twisted-pair transmitter

Quick Facts
• Highest Interference Immunity
• Rack Kit - RK-3T
• Size - TOOLS
• Audio - U
TP-141 and TP-142 (purchased separately) are an extended range twisted pair transmitter and receiver for computer graphics video (including HDTV) and unbalanced stereo audio signals, with high electrical noise immunity.
TP-141 transmitter converts computer graphics video and audio inputs to twisted pair signals, and TP-142 receiver (purchased separately) converts the twisted pair signals back into computer graphics video, unbalanced stereo and S/PDIF digital audio signals.
Applications
• Presentation and multimedia applications.
• Long range graphics distribution for schools, hospitals, security, and stores.
Features and Benefits
• Resolution - Up to UXGA.
• HDTV Compatible.
• Twisted Pair Connectors - RJ-45 connectors.
• Audio Outputs - Unbalanced stereo and S/PDIF (24-bit 48kHz) simultaneously (TP-142).
• Level (Gain) and EQ (Peaking) Controls (TP-142).
• System Range - Up to 250m (750ft) when using Kramer BCP-HDTP cable, or 600ft when using Kramer's standard skew-free cable, such as the BC-XTP.
• Cable - UTP (unshielded twisted pair) or STP (shielded twisted pair) such as CAT 5.
• Power Connect™ System - Only one unit in a system, the transmitter or the receiver, needs to be connected to a power source when the devices are within 50m (150ft) of each other.
• Compact Kramer TOOLS™ - 3 units can be rack mounted side-by-side in a 1U rack space with the optional RK-3T rack adapter.