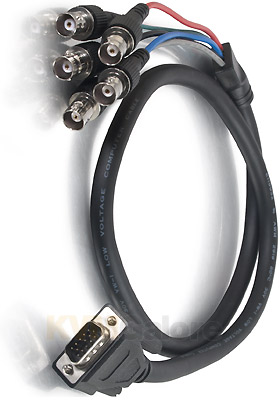 Premium VGA-Male to RGBHV (5-BNC) Female Video Adapter-Cables Provide a Crisp Video Image for Monitors, HDTV and Other Video Applications.
Cables To Go's complete line of HD15 to 5-BNC adapter cables are perfect for switches, HDTVs, projectors and test equipment in conference rooms, classrooms and auditoriums setups. Eliminate the need to reinstall cable by adapting the existing cable to match the inputs or outputs of your application.
These cables are constructed from premium quality 75 Ohm 28AWG mini coax wire to ensure a crisp monitor image. Low loss 75 Ohm impedance and polyethylene dielectric provide an accurate picture resolution and color.
Each wire is shielded with 85% copper braid that is soldered 360° to the connector shell to create a shielding solution for a vivid, noise-free image.
First letter of each monitor signal type indicated on the five separated BNC connectors provides easy identification of red, green, and blue leads with horizontal and vertical sync.
Fully molded connectors provide excellent strain relief to keep your cable intact.