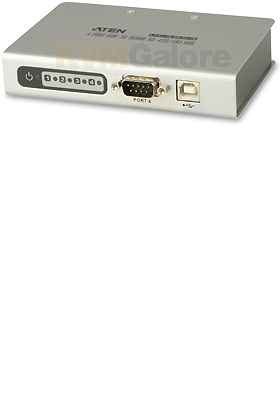 Buy this item and earn 101

Club

Points.
4-port USB to serial RS-422/485 hub
compliant with USB 1.1 and USB 2.0
---
UC4854 is a converter that transform the USB port of your computer into 4 asynchronous RS-422 or RS-485 serial ports. UC4854 hub provides an external plug-and-play RS-422 / RS-485 serial connection for computers, notebooks, laptops, and handheld computing devices that support the USB specification.
This unit supports RS422/485 auto detect & switch technology so when there is defined activity on the connected serial device, the converter automatically switches to the active serial port. Compatible with both USB specification 1.1 and 2.0, this device can transfer data at speeds of up to 115.2 Kbps.
Because UC4854 operates with plug-and play ease (under Windows) or with the provided Linux driver via a USB port interface, it doesn't require any IRQ, DMA or I/O addressing resources. Embedded electrostatic surge protection prevents damage to serial devices caused by air discharges as high as 15,000 volts.
UC4854 provides a quick, simple, and cost-effective solution and is ideal for various communication and automation applications.
Features and Benefits
• Easy way to add 4x RS-422/RS-485 serial ports
• Fully compliant with USB 1.1; USB 2.0 compatible
• Supports RS-422/RS-485 serial interface
• Supports RS-422 or RS-485 signal on individual ports
• Supports automatic handshake mode
• Up to 115.2 Kbps data transfer rate for each serial port
• Dual data buffers for each upstream and downstream data transfer
• No IRQ, DMA, I/O address resources required
• Supports hot-swapping and plug-and-play
• Built-in 16KV ESD protection
• Supports both bus power and external power
• Works with cellular phones, PDAs, digital cameras, modems and ISDN terminal adapters
• OS support - Windows
Package Content
1x UC4854
1x USB Cable
1x Installation Disk
1x User Manual
1x Quick Start Guide