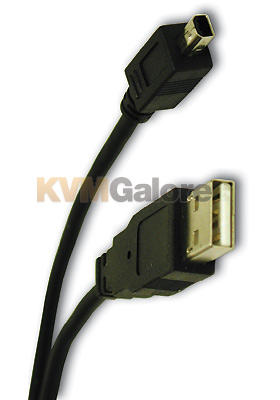 Buy this item and earn 4

Club

Points.
27331: Ideal for selected digital cameras, MP3 players and other portable devices
These fully-rated mini-USB cables attach easily to any 4-pin mini-USB device. Mini USB cables are designed to connect your 4-pin mini-USB device to the USB port on your PC or Mac. The 4-pin Mini USB Cable works with MP3 players, digital cameras including Sony, Olympus, Kodak, Epson, Minolta and HP, and other portable devices. Foil and braid shielding reduces EMI/RFI interference, and the twisted-pair construction reduces crosstalk, thus ensuring high-speed, error-free data transfer. The Mini-USB Cable is compatible with all USB specifications.
Connector: USB Type A Male to Type Mini B 4-pin Male
Make plug and play connections with MP3 players, digital cameras and other portable devices
Connects 4-pin mini-USB device to a USB port on your PC or Mac
PC and Mac compatible
This cable is compatible with the following digital camera models:
EpsonPhotoPC 3000Z and 3100Z
HP315, 315xi
KodakC300, EasyShare Camera Dock, Camera Dock II, Camera Dock 6000, CX4200, CX4210, CX4230, CX4300, CX4310, CX6200, CX6230, CX6330, CX6445, CX7220, CX7300, CX7310, CX7330, CX7430, CX7525, CX7530, DC4800, DX3215, DX3500, DX3600, DX3700, DX3900, DX4330, DX4530, DX4900, DX6340, DX6440, DX6490, DX7440, DX7590, DX7630, LS420, LS443, LS633, LS743, LS753, Printer Dock 4000, Printer Dock 6000, Printer Dock Plus, Printer Dock, Z7590
MinoltaDiMAGE 5, DiMAGE 7, DiMAGE 7A, DiMAGE 7i
OlympusE-10, E-20, C-2100UZ, C-3040Z, C-3030Z, C-700 UZ
Sony DSC-S70, DSC-S30

• Color: Black
• Warranty: Lifetime