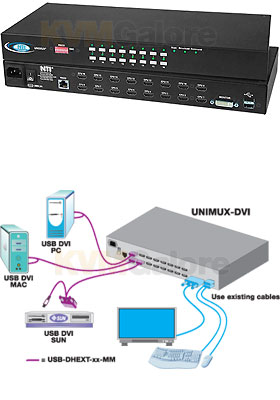 USB DVI KVM Switches, 4- 8- and 16-Ports with RS232 Control.
UNIMUX™ DVI KVM switchs allow you to control up to sixteen (16) single link DVI-enabled USB computers (PCs, Macs or Suns) with one DVI-D monitor, USB keyboard and USB mouse.
• Incorporates NTI's patented true autoboot USB switching; all attached USB PCs, SUNs and MACs can be booted simultaneously.
• Supports video resolutions up to 1920x1200.
• Supports digital DVI for crisp and clear video quality on flat panel display.
• Control the switch through the front panel interface, keyboard commands or RS232.
• High quality, rugged steel construction with durable powder coat finish.
• Fully compliant with USB 1.1 standards.
• USB SUN start-up keys are supported.
• Supports MAC soft (keyboard) power-on.
• SUN extra keys are emulated on keyboards with Windows layouts.
• 1RU case is standard. Includes rackmount kit.
• Cabling runs are simplified with NTI's high density KVM switch cables.