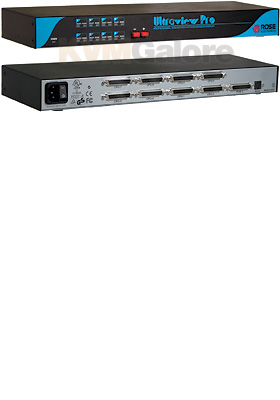 Buy this item and earn 919

Club

Points.
With simple-to-use Advanced Visual Interface (AVI) and on-screen display, UltraView Pro provides fast and easy access to any computer
When using the 16-port units, you can expand the UltraView Pro to 256 computers.

Advanced Visual Interface
UltraView Pro excels with its Advanced Visual Interface (AVI) on-screen display technology. The interface is intuitive since it uses pop-up boxes to make selections. Help lines are shown for each item to make the interface even more user-friendly. You can easily configure the computer names, security, appearance, screen saver, and many other features with ease and style. Use the AVI to configure the unit, connect to computers by name and see which computer you are connected to.

Keyboard and Mouse
UltraView Pro does full emulation of keyboard and mouse, computers can be booted at any time. It supports all operating systems such as Windows 95/98/NT/2000, Linux, Sun Solaris/Open Windows, Apple, and Unix workstations. Keyboard and mouse can be PC, Apple, or Sun. Six types of computer mice are directly supported including wheel mice. USB is supported with an inexpensive external converter cable. Apple and Sun are directly supported on multi-platform units only.

Installation
UltraView Pro is easy to install. You simply connect your computer's keyboard, video, and mouse to UltraView Pro's ports using the adapter cables. Access the on-screen display with just two keys, the left control and F12 key. You'll be impressed by the simplicity and appearance of the menus. Configure settings as desired, save the result in flash memory, and away you go.

Flash Memory
UltraView Pro contains flash memory which simply means it will never become obsolete. Rose Electronics provides free lifetime firmware upgrades. They are available from our FTP site via the Internet. It is simply matter of loading in new firmware into the UltraView Pro to add new features and support new equipment.