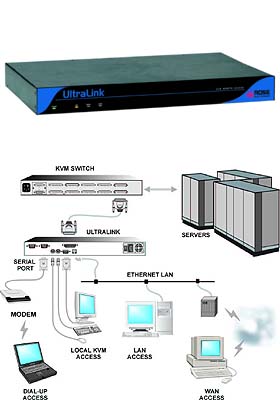 Buy this item and earn 1,289

Club

Points.
Ethernet, serial, and local access points combined with its ease of setup makes UltraLink shine
UltraLink allows you to access your computers from anywhere in the world. Connect the unit to a Rose KVM switch and your Ethernet network. Assign an IP address to UltraLink and run the remote access client from any workstation.
You can access the server just like you were standing in front of it, but you can be at home, work, or half way around the world. Easy to configure security features, prevent unauthorized access.
UltraLink has a sophisticated scaling feature allowing you to position any size image of your server anywhere on your screen. Now you can monitor servers while you work on other tasks. It is also ideal for fast updates over slow links because less data is sent.
Because the unit is a fully embedded product with no hard drive or complicated operating system, you are ensured of the highest reliability and availability.
A maximum resolution of 1280 x 1024 is supported for access to not only PCs, but also Sun and other high resolution computers. For maximum flexibility, you can access UltraLink through its serial port for dial-up modem access. UltraLink also features a local KVM port for access directly at the unit.
Features and Benefits
• Connect to remote computer over Ethernet or dial-up
• Up to 1280x1024 resolution
• Easy to install, just give it an IP address and run the remote client application
• Compatible with all Rose and most other KVM switches
• Local KVM port to access computers at UltraLink location
• Scaling of computer image reduces amount of data sent and permits fast screen updates over slow links
• Quad screen mode allows you to see four servers from one screen
• Front panel shows power and currently connected input port either net, serial, or local KVM
• Solid-state embedded unit has no disk drive for maximum reliability
• Remote client application is simple to use, installs very easily, and requires no licensing
• Password security prevents unauthorized configuration
• Made in USA
• One-year warranty