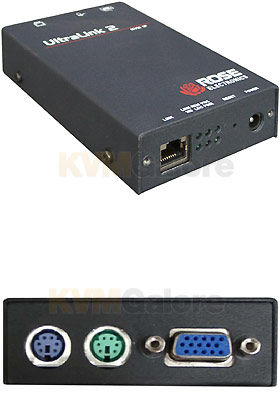 Buy this item and earn 639

Club

Points.
UL2-SA: Remote KVM access over IP
using a Web browser for accessing a KVM switch or stand-alone computer
---
UltraLink™ 2 sets a new standard for an easy and secure way to remotely manage server room environments, remote standalone applications such as digital signage and other remote applications.
You can access your computers and servers across your network, or over IP using a web browser.
UltraLink™ 2 is easy to install and configure. Connect the unit, assign an IP address and network information, remotely connect to the unit and it's ready to use.
Instead of going to a remote site to perform an upgrade or patch, let the remote site come to you. The Virtual Media feature allows the IT professional to remotely access USB equipped systems and perform patches and upgrades without the expense of a trip to the remote site.
UltraLink™ 2 is very easy to install and configure. Just connect the unit to your network, a local KVM station, and a computer or KVM switch. Next, assign an IP address and network information to the unit and you're done. Next, from a remote computer, connect to the UltraLink 2's assigned IP address using any web browser. The viewer (Real VNC or the Java applet) can be installed directly from the unit. When complete, the connected computers video will display on the remote monitor and you have complete and secure control of the computer.
UltraLink™ 2 is designed with the highest regard for security. Remote access requires a user ID and password. All transmissions to and from a remote user are encrypted with the latest AES 128 bit encryption technology. Up to 16 user accounts can be set-up each with separate access permission levels.
The video setting menu gives you access to all of the video settings such as Phase, Threshold, and Horizontal and Vertical position, Color, Brightness and Contrast. These and other settings can be manually set or UltraLink™ 2 can automatically determine the best settings using the Calibrate all feature.
UltraLink™ 2 uses a two-mouse cursor system in a very intuitive style showing the local cursor and the remote host cursor.
Features and Benefits
• IP address, sub-net, gateway, and other network information are easily configured by modifying a simple text file
• Connect to a remote computer, server, or KVM switch directly or remotely over IP using any supported Internet browser
• Virtual Media feature allows authorized remote users to transfer files and folders to a computer. This feature makes upgrades possible from remote locations
• 2 - PS/2 to USB adapters are provided for using USB keyboards and mice
• Resolution up to 1600x1200
• Solid-state embedded unit for maximum reliability
• Compatible with Rose Electronics KVM switches and most other KVM devices
• Easy to install and configure using the OSD menu
• Password security prevents unauthorized configuration and access
• User ID and password required for remote access
• Remote application (Real VNC or Java applet) can be installed directly from the unit
• Up to four simultaneous remote users can access the UltraLink 2 at any one time.
• Front panel indicators show Link, Local or remote connection, VNC, Network Speed, and Power
• Rackmount kit included