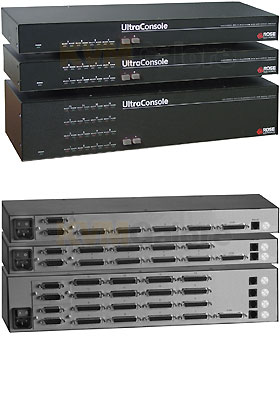 Multi-Platform, Chainable, Single-User KVM Switch with OSD, Supporting PC, Sun, UNIX, Linux, USB, and Serial Devices (Routers, VT100/220 Terminals) with Plug-In Expansion.
UltraConsole allows for a central user station to connect to four, eight, or sixteen computers per chassis, expandable to as many as 1,000 computers or serial devices.
UltraConsole series is available in 1 x 4, 1 x 8, and 1 x 16 models. Units easily connect together with bus cables to make a seamless and truly scalable KVM solution.
The advanced design of the UltraConsole uses networking communication technology to reduce cost, eliminate single points of failure, and increase reliability.
The on-screen menus make configuring, monitoring, and installation easy with on-screen instructions and help. Use the on-screen menus to name computers, select computers, view connections, assign users, configure system security, and other features.
UltraConsole provides serial support to access computers, routers, Ethernet hubs, UNIX devices and more. It can perform as a "VT100/VT220" terminal emulator with an eight-page scroll buffer. Local monitor connection, security, flash memory, system status and many other features ensure that the UltraConsole will streamline your data center or server room and provide a central access point for your system.
UltraConsole fully emulates the keyboard and mouse. It works on all major operating systems such as Windows, Solaris, Linux, UNIX, SGI, and OSX.