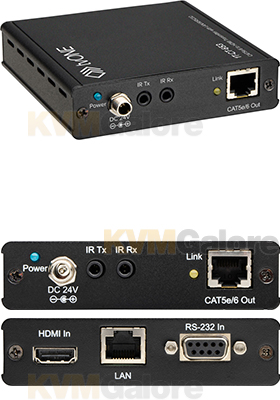 Buy this item and earn 276

Club

Points.
HDMI transmitter over a single CAT-5e/6
HDMI v1.4a extension with PoH and control over Ethernet, infrared or RS-232, using HDBaseT 3Play™ technology
---
1T-CT-653/1T-CT-654A HDMI over a single CAT-5e/6 system consists of a 1T-CT-653 Transmitter coupled with a 1T-CT-654A Receiver (each purchased separately) which employs HDMI v1.4 capability and HDBaseT 5Play™ technology to allow transmission of uncompressed, 1080p high definition television signals over a single CAT-5e/6 cable.
HDMI v1.4a signals, including 3D and 4K x 2K formats, are supported and the system will also allow DVI signal transmission with appropriate DVI to HDMI Cable adapters. In addition, embedded LPCM 7.1CH, Dolby TrueHD, Dolby Digital Plus and DTS-HD Master Audio capability is standard.
Control signals can be passed via Ethernet, infrared or RS-232.
1T-CT-653/1T-CT-654A system can achieve signal distribution distances of up to 325 feet (100m) for uncompressed 1080p signals without signal degradation.
Power over HDBaseT (PoH) support allows the Receiver to be powered by a PoH Transmitter (1T-CT-653, MX-8488) if a local power connection is not available.
Bi-Directional infrared control is provided via sensors that can be remotely placed several feet from the units themselves. Bi-directional RS-232 signals are also supported. HDCP security is enabled at the version 1.1 level and both the Transmitter and Receiver units feature the unique TV One-task locking power connectors to enhance overall system mechanical security.
Key Features
• HDMI 1.4a with 3D, 4k (24Hz/30Hz) support, HDCP 1.1 & DVI 1.0
• Uncompressed HDMI signal distribution to 100m/325ft
• Uses HDBaseT performance enhancing technology
• Supports Embedded HDMI Lossless Digital Audio
• Full HD resolution support (1080p @60Hz/36bit) and 3D; UHD support (4k @30Hz)
• PC resolutions up to WUXGA
• Supports HDCP Repeater and CEC bypass
• Supports Embedded HDMI Lossless Digital Audio
• Output resolution follows input
• Uses a single CAT-5e/6 cable via RJ45 connectors
• Bi-directional infrared remote control extension support
• Bi-directional RS-232 remote control
• Bi-directional Ethernet support
• Receiver supports both PoH (Power over HDBaseT) and local power
• Compatible with CORIOmax HDBaseT Output Modules
• Warranty: 3 years parts and labor
Package Contents
1x Transmitter (1T-CT-653) unit
1x Power Adapter
1x IR Emitter Device
1x Operations Manual